Tony Blair as 'Miranda '

HE WHO PAYS THE PIPER
by
T Stokes
People ask, 'why do politicians get into power and then ignore the wishes of the electorate' ? its quite simple the financial backers choose carefully people with character flaws that can be bribed or blackmailed. Look at Winston Churchill in the thirties, both the Times mag and Homes and Gardens magazine voted Hitler man of the year, Manpower mag said if Hitler can achieve such prosperity and with full employment surely we can do it in Britain?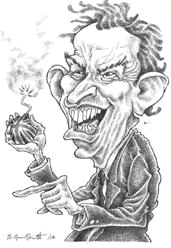 Many in government admired him and Oswald Mosely was such a talented negotiator and politician that he was asked to lead both major political parties but knew they were too infiltrated and corrupted so started his own National Socialists party as an alternative.
Neville Chamberlain had a team which secretly spent 4 years studying the German model and planned to implement part of it in Britain, suddenly Churchill decided the Russians are not the threat but Germany, and agitates for war; Hitler was shocked at this because under the Chamberlain agreements the Anglo Saxon family were to join against Russia.
Churchill had huge gambling, drinking and whoring bills, and Jock Colville claimed he usually insisted on ginger haired prostitutes, so they bought him a ginger tomcat as a private joke.
Churchill's sandhurst file, the original and proper one lists him as, 'a confirmed sodomite and a menace to the younger boys' ( Courtesy of guy burgess diaries ) this waywardness allowed Churchill to be used by the bankers, under the carrot and the stick, you do as we say and you get paid x amount, you don't do as we say and we ruin you. In W W 1 Churchill took bankers cash in the name of Colonel Arden, and W W II his secretary said several names were used, Mr. A Conner's was alleged to be just one.
How Britain came to be in the EU under such disastrous terms was because Edward Heath was allegedly a c
o
prophiliac, he would regularly take boys from certain care homes away on his boat for weekends. His sheets had to be perfectly white, clean ironed and perfumed, Heaths obsession with this made the boats name 'morning cloud' the subject of many in house jokes, nevertheless he was seriously warned 4 times by the police for hanging around public toilets, special branch had to appoint a man especially to protect him, it was Liberal party Leader Jeremy Thorpes threat to bring down Edward Heath and a big bunch of other politicians, which got him off the Norman Scott attempted murder court case. The name 'Mr. Eddy' was well known on Hampstead Heath and the boys home nearby in the seventies.
Labour politician Tom Driberg was said to spend as much time in public lavatories as the houses of parliament and he gave in 1972 a long list of top people involved in 'blackmail-able' sexual pursuits to M I 5. This same list in the same order would later turn up in the KGB London office, top of this list was Sir Anthony
Blunt
, who was believed to be a procurer of men and young lads, when a person dies their bowels tighten then release, and Blunt was said to have strangled young boys while being sodomized in '
snuff' killings
, this is supposed to heighten the sexual climax. He would obtain boys from care homes for David Temple, who was also known as 'Soxon Rothschild, because he always kept his socks on while naked.
Blunt knew actor Peter Arne who allegedly would take food to tramps sleeping in the local park in exchange for sex and Arne had contacts at the top of the political tree, and was picked out by several boys in mug shot pics as hanging about outside boys schools.
In 1983 at Bow St Magistrates Court a certain Charles Lynton was fined £50 for attempted soliciting in city toilets, the police notes were to disappear later along with several prior verbal warnings, Charles Lynton was at university well known as 'Miranda' a promiscuous cross dresser who played a guitar badly. Charles Lynton is Tony Blair's middle names, and it was
lord levy
who funded and greased Tony Blair through the hoop into the prime minister's office for one reason, the Iraq war.
Peter Mandelson
and Cherie Blair hated each other, Mandelson as top Rothschild apparatchik for Britian was rumoured to boss and bully Blair, but after a row with the French the newspapers were tipped off anonymously that Frederic Mitterrand was paying young boys for sex, but a small security firm phone tapping for a newspaper, claimed the tip came from Mandelsons people.
The NSA whistleblower David Murphy-Fawkes has said they listened in to all Tony Blairs calls, as the US senate saw him as a lightweight 'Pinocchio' figure.
In march 2003 Peter Mandelson officially endorsed Leo Gillan as his political candidate, who then lost out to a man in a monkey suit, 'hangus' the monkey was offering a free banana to schoolchildren, 'hangus' was an in joke on the campaign to hang war criminals such as Saddam Hussein and Tony Blair.
Mandelson while business minister showed his true metal while holidaying on Deripaskas yacht, now Deripaska is banned under organized crime regs in the USA, but according to the Daily Mail 23rd May 2010, Nat Rothschild, Deripaska and Mandelson shook hands on a £500 million aluminum deal that cost many Britons their jobs, much of this is said to be in chemtrail drops. These 3 were joked about in the MI5 canteen as 'the axis of evil' and 'the 3 jewboys' and when Mandelson was admitted into a French hospital recently with prostate problems, the French doctors report told of felching injuries, felching is the gay sport where a cardboard tube is pushed into the rectum and a small furry animal slid down inside, our Peter apparently was scratched internally rather badly.
Peter Mandelson is controlling director of the NSPCC, and when Margaret Hodge ( Oppenheimer) was children's minister she lived next door to Tony Blair, they also knew childline funders Sarah Caplin and Esther Rantzen, who are connected to TV mogul Michael Grade.
The Metropolitan police tell us that a score of scandals have hit children's homes across the country, and strangely all has gone very silent, except for the Holly Greg case, now this is the only one that involves a girl all the rest being boys, one reporter for a newspaper asked Westminster police why has all this not got out,? and pointed at chief children's minister Mrs. Hodge ? , and asked if this was a conspiracy of silence and if so why?
Interestingly a score of names of frequent visitors to these care homes including pop musicians DJs and top politicians. Was a gag order imposed by Tony Blair,? including mention that Gordon Brown was close to several rent boys and Sarah Macauley was paid £50,000 to marry him and stay the course, this out of publisher Robert Maxwell's 'black widow fund' which went usually to Zionist activists. Maxwell's daughter Ghislaine is said to be fund administrator and close to Prince Andrew, and all this is why no politician does what it says on the tin, because they have to dance to the paymasters tune 'He who pays the piper, calls the tune.'
'There are 1000 hacking at the branches of evil, but just 1 hacking at the root' - Henry Thoreau
T Stokes London
=============================
JERSEY:Children were loaned to rich paedophile yachtsmen
CHILDREN from the Jersey House of Horrors were loaned to rich paedophile yachtsmen as galley SEX SLAVES, a News of the World investigation reveals.
The youngsters were told by care staff the boat rides were treats—only to be assaulted and RAPED at sea by pervert toffs.
Details of the sick attacks emerged as we discovered even more blood has been found in a bath in the dungeon underneath the Haut de la Garenne home—and in the drains. And our reporters have been told how builders on renovations at the home were urged by staff to BURN any bones they dug up.
We also uncover the full extent of the dark forces of corruption hampering the police investigation. We can reveal worried cops feel under so much pressure over the abuse allegations they are preparing to BYPASS Jersey's own legal system and hand their evidence to our government.
This could include files on up to seven social workers and carers who worked at the sinister home—including one nicknamed the 'pinball wizard' who HURLED kids against the walls to see how far they would BOUNCE. At least two previous senior employees of children's services on the island are also under investigation despite the attempts of corrupt former policemen, politicians and businessmen to scupper the inquiry.
We understand that two weeks ago Jersey ministers SECRETLY VOTED to have senior police investigator Lenny Harper removed from the case because they believed he was too open with the media. But the Chief of Police Graham Power refused.
Explosive
-A source told us: "Such important figures have been implicated in the cover-up of abuse on the island that the cops feel the evidence should now be passed to the British government
"The latest revelations are explosive. It is going to cause massive waves within the political and legal world and could bring the whole of Jersey's infrastructure crashing down." One of the most serious lines of inquiry in the investigation is that children were regularly loaned to wealthy yachtsmen to "do with them what they chose for the day," according to our source close to the investigation.
Haut de la Garenne staff described the trips as a treat for children who spent long hours cooped up at the home. But in reality the kids were subjected to the vilest sexual abuse on board the luxury boats. Our source said: "The allegations about the yachting community have come in from a number of different people. It is a very strong line of inquiry and when the evidence is made public people will be horrified." Meanwhile about a dozen bones found at the home have been sent to a DNA lab to find out how old they are —yet some bone fragments were too burnt to be tested.
Police have taken statements from local builders who were told: "If you find bones, get rid of them or burn them." New blood spots have been discovered in cracks in a concrete bath in the underground chamber and have also been sent for tests and sniffer dogs trained to find blood have found scents in the drains underneath.
Forensic officers are now focusing on the wooden trapdoor leading to a second torture cellar in a bid to extract DNA or fingerprints. Our source said: "Detectives are doing everything they can to ensure every scrap of evidence is properly investigated. They are very aware that the home dates back to 1856 and some of these bones could be very old.
"This is going to be a long process but the officers have been presented with so many accounts of abuse and cover-ups it is crucial we get answers. People disclosing the abuse have been easy to ignore but finally they are getting a chance to be taken seriously." The horrors being uncovered at Haut de la Garenne have revealed a Jersey tourists have never seen.
Former abused care home residents claim what happened to them has been covered up by those in high office, desperate not to tarnish Jersey's good name or risk politicians in London reducing their power over the tiny, but extremely wealthy, island. Although Jersey is part of the British Isles and under the Queen's rule, it has a separate government system dating back to King John's reign, and makes its own rules and laws.
Jersey's 53-member parliament has no political parties. Its politicians, judges, policemen and business leaders come from a small elite—often linked by friendship or family. The island's equivalent of our Commons Speaker is also its top judge—so the system of checks and balances between politics and the law we have in the UK is almost non-existent.
This is a place where the authorities allowed 43-year-old convicted paedophile Roger Holland to stand for election as an honorary constable officer— similar to a special cop in the UK, but with more powers. They knew that six years earlier he had indecently assaulted a mentally impaired 14-year-old girl and admitted molesting another girl. But he got the job and in 1997 rose to become vingtenier—the second most senior cop on the island's volunteer force.
In 2001 he was jailed for indecently assaulting a young girl in the back of a police van. "Jersey has for too long been a law unto itself—it is time the truth came out," says our source. Among those fighting for that is ex-health minister Senator Stuart Syvret, who resigned over the cover-up and has given statements to police claiming two senior legal figures were involved in the abuse.
Mr Syvret said: "I have given formal statements to the police concerning a number of establishment individuals. Officers I have spoken to are from a force external to Jersey police at the request of Jersey police." Solicitor Nick le Cornu is also demanding change. "Jersey's political class have for 60 years been ignoring and covering up poverty and injustice," he claimed.
Police investigator Lenny Harper, an outsider from Northern Ireland, was the target of a hate campaign— including threats to torch his house —after a string of cops were sacked for corruption. Colleagues say Harper, 56, laughed it off, saying: "I had the IRA on my tail for years—so a few disgruntled people are not going to deter me from doing my job." Now he's facing the biggest test of his career—on the island of fear.
IT IS ALLEGED – He is very well known for his perverted abuse of young boys. A source spoke to one of his victims and he said about others who were present, and more important, who was supplying the children to him. The person bringing children for him to abuse is
Sir Jimmy Saville
. He was seen by the witness, victim, taking young boys onboard Heaths yacht the morning cloud when they were at party conference. Saville is known for supplying a number of high profile MP's with children for them to sexually abuse.
http://www.newsoftheworld.co.uk/1603_jersey.shtml
=======================================
Ted Heath 'stopped cottaging for gay sex to protect his career', says Tory MP
By IAN DRURY
Last updated at 18:53 24 April 2007

Former Conservative Prime Minister Ted Heath has been outed as gay
He led the Tories to a surprise General Election victory over Labour, took Britain into Europe and lost power after failing to beat the unions over the three-day week.
But Sir Edward Heath might never have had a stint in 10 Downing Street had he not heeded advice to stop 'cottaging' for gay sex.
For he was warned in the 1950s that cruising for homosexual encounters could destroy his political career.
Sir Edward, a lifelong bachelor who died in 2005, always refused to comment on his sexuality.
But Brian Coleman, a senior Tory member of the London Assembly, has claimed the ex-Prime Minister had actively sought gay sex in public places.
He said it was 'common knowledge' among Conservatives that Sir Edward had been given a stern warning by police when he underwent background checks for the for the post of Privy Councillor.
In an internet article for the New Stateman magazine, Mr Coleman claimed that gay men had run the Conservative Party in the capital for years, whether as officials, councillors or volunteers.
He wrote that Britain 'had managed for decades with gay men holding a significant number of public offices'.
Mr Coleman, who is gay himself, added: 'The late Ted Heath managed to obtain the highest office of state after he was supposedly advised to cease his cottaging activities in the Fifties when he became a Privy Councillor.'
Sir Edward, a world-class yachtsman, endured a torrid time as Prime Minister after winning power in 1970. He took office promising to be 'tough on pay and tough on unions'.
But following endless powercuts, a three-day working week and a pay freeze against the background of the 1970s oil crisis, he was humiliated after being defeated in the snap General Election of 1974.
Derek Conway, Sir Edward's successor as Tory MP for Old Bexley and Sidcup, denied there had been any hint of impropriety in his private life.
He said: 'Ted was absolutely wedded to politics. He didn't have a great deal of personal companionship in his life but there are people who are capable of getting on with their lives without companionship.'
Mr Coleman made his claim in an article that complained about gay men in public life often being 'outed' by others against their will.
Senior police chiefs, cathedral deans and Tory MPs now regularly feature in the gay press, he said.
He wrote: 'I once asked the late Baroness Blatch as she tried to position herself to inherit the anti-gay crusade of Baroness Young exactly who she thought ran the Conservative Party in London?
'When she looked at me blankly I replied 'the gay men of course' and certainly a huge percentage of Conservative councillors, professional staff and association officers are gay.'
He said the practice of 'outing' public figures was carried out by tabloid newspapers to 'discourage thousands of men' from standing for office.
He cited disgraced Liberal Democrat Mark Oaten, a former party leadership candidate, who last year announced he would resign as an MP after his sordid six-month affair with a male prostitute was exposed.
Fellow Liberal Democrat leadership candidate Simon Hughes was also forced to admit he was gay after repeatedly denying the fact.
But Mr Coleman said: "In my experience the only people fascinated as to who does what and to whom are other gay men.
"The average voter could not care less if their Member of Parliament visits Hampstead Heath at Midnight as long as they get the holes in the road mended."