"

Dr von Peters, who spends a lot of time teaching in various medical schools in Russia, told me unequivocally that he's seen absolutely NO death towers in that country, though everyone has a cellphone.

"--Don Croft

Remote Mind Control

.


Reach out and touch someone


by

Steven J. Smith
1.1.0
Introduction:
Since the dawn of civilization, governments have sought means to manipulate the thoughts and perceptions of its citizens. For example, every dictator wants to feel safe from, and loved by, those he dictates to. Even democratic governments use the techniques of public relations, spin doctoring, and press conferences, to shape the perceptions and opinions of their constituency. These techniques are so widespread that most human languages have a word dedicated to its description. In English, that word is "propaganda". The reason for this emphasis on human thought and perceptual management is quite simple. It takes far less effort to change someone's mind, than to change their living, working, or economic conditions. Furthermore, since the citizenry always out number those who exercise authority, it is critical that a majority of the people are satisfied with their leadership, or at least believe that no better alternative is available. Any government that fails to follow this maxim, be it a democracy, republic, monarchy, military junta, or dictatorship, is doomed to a quick and ignominious demise. It follows that ALL governments have an intense interest in, and are willing to expend vast sums of money on, ANY method or technology that holds the promise of enhancing the manipulation of human thought and/or perception.

With the rise of competitive nation states and international trade, a second application for human perceptual/opinion management has emerged. The use of propaganda to modify the perceptions and opinions within neighboring nation states, and thereby gain some political, economic, or military advantage, generally to the detriment of those who are manipulated. In the 20th century, a new and novel avenue for manipulating the human mind made its first appearance. The use of EM (electromagnetic) energy to directly modify human thought process. Its first application was electro-convulsive therapy (ECT) also known as electro-shock treatment. While being a crude, brute force method, it none the less opened the door to more tantalizing and subtle possibilities.

What follows is a detailed exposé on the development, deployment, and ongoing use, of a covert EM mind control technology that spans the entire planet. You already know its name, if not its capabilities.

You call it the Cell Phone Network...
1.1.1
Early developments:
Starting in the 1950s, working under the now infamous MK Ultra project, dozens of government grants were awarded for research into different aspects of human thought and/or perceptual manipulation. Some of these grants involved the development and testing of psychoactive drugs (LSD for instance). Other grants involved the physical modification of the human brain via surgery. Still other grants involved the use of EM energy to alter brain chemistry, with the ultimate goal being covert injection of perceptions or thoughts directly into the human mind. It is this last category of research that we shall focus upon in this paper.

It is unlikely that we'll ever know the true extent of, or the full results derived from, human mind control research conducted under the auspices of MK Ultra. However all is not lost, there are non-classified research papers from that era. Also a body of circumstantial evidence exists, that can be used to gain further insight into the subject. And of course, we have the fully deployed remote mind control system itself, available for our review and analysis. All we have to do is connect the dots...

Lets start with a 60 year old piece of circumstantial evidence.

During the development and deployment of Radar (in WWII), there were reports from radar technicians of auditory stimulus (artificial sounds) coincident with exposure to microwave radiation. It was generally assumed that mechanical movement within the ear or surrounding bone structure, created by rapid changes in temperature from exposure to microwaves, was the most likely cause. However, when deaf subjects also reported "hearing" microwaves, it became clear that a more subtle mechanism or phenomena must be responsible for the effect.
1.1.2
Allen H. Frey:
Cornell University (Ithaca New York), 1962. Allen H. Frey publishes a research paper in the Journal of Applied Physiology entitled,
"Human auditory system response to Modulated electromagnetic energy".
In his paper Mr. Frey describes the use of EM energy at average power levels measured in microwatts per square centimeter. I quote directly from his research paper:
The perception of various sounds can be induced in clinically deaf, as well as normal, human subjects at a distance of inches up to thousands of feet from the transmitter.
With somewhat different transmitter parameters, we can induce the perception of severe buffeting of the head, without such apparent vestibular symptoms as dizziness or nausea. Changing transmitter parameters again, one can induce a "pins-and-needles" sensation.
The transmitter modulation method employed in Mr. Frey's experiments was "pulse modulation", later known as digital modulation (figure 1 in Mr. Frey's paper). A further observation by Mr. Frey is relevant to this discussion. The EM frequency spectrum for greatest absorption by the human head, and therefore lowest threshold of auditory perception. In other words, what part of the EM spectrum is most efficient (requires the least transmitted power) to produce an auditory response?
Referring to Mr. Frey's paper, the graph in Fig. 5 indicates the frequency spectrum from 500 Mhz to 5000 Mhz is most efficient, with peak efficiency near 1000 Mhz.
Click Here
to view a full copy of Allen H. Frey's research paper (opens in a new browser window).
1.1.3
Cell Phone frequency spectrums:
The frequency spectrums assigned to the Cell Phone Network fall within 840 to 960 Mhz (low band) and 1710 to 2170 Mhz (high bands). Figure 1 is a reproduction of Mr. Frey's graph, with the positions of cell phone frequency bands outlined in red.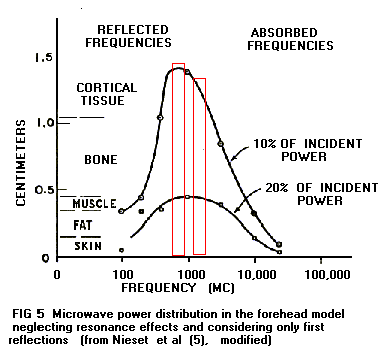 Figure 1
(reproduction of Mr. Frey's graph with cell phone frequency bands included)
As you can see, the frequency bands assigned by the FCC (federal communications commission) for use by Cell Phone Networks are at or near the peak of Mr. Frey's graph (showing most efficient absorption of EM energy by the human head), a graph taken from a 40+ year old research paper entitled: "Human auditory system response to Modulated electromagnetic energy" (see 1.1.2 above).

What a remarkable coincidence! Or is it?

As a side note, the frequency assigned for use by microwave ovens (2450 Mhz) is also in this same part of the EM spectrum.
1.1.4
Cell Phone base transceiver stations:
Everybody's seen them and hates them. They dot the urban landscape like a plague, and they seem to pop up like weeds. I'm talking about Cell Phone towers (see figure 2 below). These towers are just the most visible part of a Cell Phone BTS (Base Transceiver Station). At the bottom of each tower is a small building that houses the actual BTS electronics.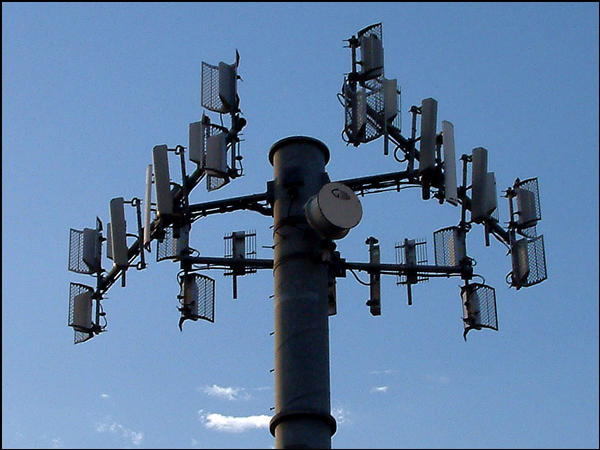 Figure 2, a typical Cell Phone BTS tower
One might assume that each Cell Phone conversation (channel) has an independent transmitter dedicated (or assigned) for the duration of the call. In reality three sets of broadband transmitters known as an MCPA (Multi-Carrier Power Amplifier) are used, with each Cell Phone conversation (channel) summed together with other Cell Phone conversations (channels), and the entire group broadcast (transmitted) by a particular MCPA set. The reason three MCPA sets are used is that most Cell Phone BTS sites divide their coverage area into three 120 degree sectors, with each MCPA set assigned to one particular sector. These 120 degree coverage sectors are why the Cell Phone BTS tower has that distinctive triangular antenna arrangement (as shown above).
Since each MCPA set handles all the Cell Phone conversations for a 120 degree coverage sector, it follows that although the transmitted power for any particular Cell Phone conversation is specified as 10 watts, the TOTAL power output of an MPCA set ranges from 180 watts to 360 watts. Furthermore, the antenna configuration shapes (or focuses) the radiated EM pattern such that the total ERP (effective radiated power) ranges from 9,000 watts to 18,000 watts per 120 degree coverage sector (17db or 50x antenna gain). Therefore the total ERP for a Cell Phone BTS site (360 degree coverage) is on the order of 27,000 to 54,000 watts! And of course there are multiple Cell Phone companies, each with its own network of BTS sites. Consequently any particular urban area will be subjected to EM radiation of approximately 81,000 to 216,000 watts (3 to 4 cell phone companies). To put this in perspective, the average AM radio station transmitter is 50,000 watts.
Click Here
to view the product specification sheet for a typical MCPA (requires Adobe Acrobat reader - opens in a new window).
Click Here
to view the product specification sheet for a typical Cell Phone BTS antenna (requires Adobe Acrobat reader - opens in a new window).
Under normal operation, each Cell Phone company uses a different portion of the Cell Phone Network frequency spectrum. However the actual frequencies used are determined by computer controlled DSP (digital signal processors) which like any computer controlled device, can be reprogrammed in fractions of a second. The transmitted signal uses TDMA (time division multiple access) or CDMA (code division multiple access) encoding. Both encoding methods produce a series of digital (on-off) pulses, just like Mr. Frey's original experiments (see 1.1.2 above).
It would seem the modern Cell Phone BTS is tailor made to reproduce Mr. Frey's experimental results (see 1.1.2, 1.1.3 above).