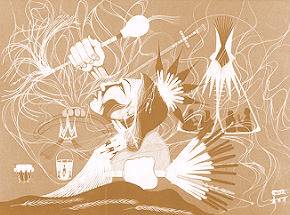 Peyote Wisdom
"morning peyote"
by Rance Hood (Comanche) 1969



=================

Introduction to the Peyote Wisdom Collection
Guy Mount
from The Peyote Book, Sweetlight Books, Cottonwood California, 1993. ©Guy Mount
---



At this moment in American History, the practitioners of alternative herbal medicine and religion are the most persecuted and prosecuted members of society. Peyote itself is under attack from oil well development companies, dry land ranching techniques, and an ever increasing number of consumers. There is an immediate need to 1) pass laws in each state that protect the rights of all people, regardless of race or ethnic origin, to practice the peyote religion and pursue alternative healing strategies (which may employ herbs on the "controlled substances" list), and 2) protect peyote by developing nature preserves in south Texas and encouraging cultivation. The Peyote Religion and the herbal sacrament it depends on will soon be extinct unless something radical is done to establish environmental protection and decriminalize cultivation.




There is also a great need to provide educational curriculum that supports a peaceful transition from an abusive "War on Drugs" to a knowledgeable use of herbal medicines. Our educational system presently teaches children that "drug use" is crazy and criminal. There is no distinction made between herbs and drugs, nor are any positive images of herbal medicines provided; so it's not surprising that American teenagers act crazy and commit crimes when they use herbs and drugs—that's what they've been taught to do!




Fortunately, the Native American Church and Native American philosophy in general provide us with the lessons we need to grow as individuals, and to improve the overall health of our society. Insofar as America learned from its native people, it has provided Light to the world through democracy, religious freedom and economic reciprocity. Therefore, I hope the Peyote Religion will grow substantially in the near future to include many new practitioners from all races, and legal Peyote Churches and greenhouses in all states. Our world needs this medicine, this lifeline to the future.



======================
e 1950s a research biochemist interested in the hallucinogenic properties of the plant personally financed a graduate school program to study and determine the botanical relationships of the group and to unscramble the nomenclature. The botanical aspects are now much clearer.
The peyote cactus is a flowering plant of the family Cactaceae, which is a group of fleshy, spiny plants found primarily in the dry regions of the New World. Some of the characteristics which one normally sees in cacti are not readily evident in peyote, except for the obvious one of succulence. Spines, for example, are present only in very young seedlings. However, the cactus areole—the area on the stem that usually produces flowers and spines—is well pronounced in peyote and is identified by a tuft of hairs or trichomes. Flowers arise from within the center of the plant and, like other cacti, the perianth of peyote flowers is not sharply divided into sepals and petals; instead there is a transition from small, scale-like, outer perianth parts to large, colored, petal-like, inner ones. Another characteristic which shows that peyote belongs in the cactus family is the absence of visible leaves in either juvenile or mature plants. Leaves are greatly reduced and only microscopic in size; even the seed leaves or cotyledons are almost invisible in young seedlings because they are rounded, united, and quite small. Also, the vascular system of peyote is like that of other succulent cacti in which the secondary xylem is very simple and has only helical wall thickening.

BOTANICAL HISTORY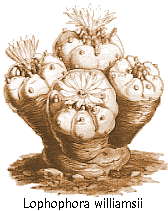 Fig. 8.1 — The first illustration of peyote
appeared in Curtis's Botanical Magazine
in 1847 (plate 4296).


Peyote was first described by western man in 1560 but it was not until the nineteenth century that any plants reached the Old World for scientific study. Apparently the French botanist Charles Lemaire was the first person to publish a botanical name for peyote, but unfortunately the name that Lemaire used for the plant, Echinocactus williamsii, appeared in the year 1845 without description and only in a horticultural catalog. Therefore, it was necessary for Prince Salm-Dyck, another European botanist, to provide the necessary description to botanically validate Lemaire's binomial. No illustration accompanied either the Lemaire name or the description by Salm-Dyck and it was not until 1847 that the first picture of peyote appeared in Curtis' Botanical Magazine (figure 8.1).[2]
In the second half of the nineteenth century the characteristics and scope of the large genus Echinocactus were disputed by several European and American botanists; gradually its limits were narrowed and new genera were proposed to contain species that had once been included in it. In 1886, Theodore Rumpler proposed that peyote be removed from Echinocactus and placed in the new segregate genusAnhalonium, thus making the binomial A. williamsii, a name which soon became widely used throughout Europe and the U.S.3 Much earlier (1839) Lemaire had proposed the name Anhalonium for another group of spineless cacti, now correctly classified as Ariocarpus.[4] Anhalonium must be considered as a later homonym for Ariocarpus, so, according to the International Rules of Botanical Nomenclature, it cannot be validly used as a generic name for any plant.[5] Ariocarpus superficially resembles peyote, but clearly is a different genus.
In 1887, Dr. Louis Lewin, a German pharmacologist, received some dried peyote labeled "Muscale Button" from the U.S. firm of Parke, Davis and Company in Detroit, which had obtained the material from Dr. John R. Briggs of Dallas, Texas, earlier that year.[6] Lewin used some of this plant material in chemical studies and found numerous new alkaloids; he also boiled some of the dried "buttons" in water to restore something of their living appearance and gave them to a German botanist, Paul E. Hennings of the Royal Botanical Museum in Berlin for study. Hennings noted that Lewin's plant material appeared similar to the plant called "Anhalonium" williamsii (Echinocactus williamsii Lemaire ex Salm-Dyck) but apparently differed somewhat in the form of its vegetative body, namely in the characteristic wool-filled center of the plant. Hennings decided that the dried plant material given to him by Lewin was that of a new species, which he formally named Anhalonium lewinii, in honor of his colleague. His description was accompanied by two drawings, one of the new species, A. lewinii, and the other of the older species, A. williamsii.[7] The illustration of A. lewinii shows a high mound of wool in the center of the plant. Apparently, the drawing, which had been made from the dried plant material that Lewin had boiled in water, was an incorrect reconstruction of what had been the original appearance of the plant. When the top of a peyote dries, the soft fleshy tissue is reduced greatly in volume, whereas the wool does not decrease in size at all. Therefore, the proportion of wool to what formerly was the fleshy or vegetative part is greatly increased in the dried button. This phenomenon presumably caused Hennings and Lewin to believe that they had a new species of peyote when in actuality the plant material they had studied was that of "Anhalonium" williamsii.[8]
Bruhn and Holmstedt have concluded that Lewin's plant material known as "Anhalonium" williamsii was in fact the southern species of peyote, Lophophora diffusa. The specimens which Hennings described as the new species "Anhalonium" lewinii belong to the northern species of peyote, L. williamsii.[9]
Additional confusion concerning the botanical classification of peyote occurred in 1891 when the American botanist John Coulter transferred peyote to Mammillaria, a genus commonly called the pincushion or nipple cactuses Then, in 1894, a European named S. Voss confused things even more by placing peyote in Ariocarpus, the valid name for a distinct—and quite different—group of plants that had been called Anhalonium also.[11] Finally, in the same year Coulter proposed a new genus for peyote alone: Lophophora.[12] This helped clarify the nomenclatural situation because peyote had been included in at least five different genera of cacti by the end of the nineteenth century. The group of plants commonly called and used as peyote is unique within the cactus family and deserves separation as the distinct genus Lophophora.
Beginning about 1900 numerous forms and variants of peyote were collected in the field and sent to cactus collectors and horticulturists in Europe and the United States. The highly variable peyote plants, not seen as part of natural populations but as individual specimens in pots, were often described as new and different species. None of the taxonomic studies, however, were based on careful field work, so little was known of the nature and range of variations within naturally occurring peyote populations. By mid-century greater accessibility of peyote locations in Texas and Mexico permitted extensive field work which has shown that plants of the genus Lophophora, especially in the north and central regions of its distribution, are highly variable with regard to vegetative characters (i.e. color, rib number, size, etc.). The number and prominence of ribs, slight variations in color, and the condition of trichomes or hairs have tended to be three of the main characters which have delineated many of the proposed species and varieties of peyote; however, these characters vary so greatly even within single populations that they are an insufficient basis for separating species—if a species is considered to be a genetically distinct, self-reproducing natural population.
Field and laboratory studies show that there are two major and distinct populations of peyote which represent two species: (figure 8.2).[13] The first, Lophophora williamsii, the commonly-known peyote cactus, comprises a large northern population extending from southern Texas southward along the high plateau land of northern Mexico. This variable and extensive population reaches its southern limit in the Mexican state of San Luis Potosi where, near the junction of federal highways 57 and 80, for example, it forms large, variable clumps. The second species, L. diffusa, is a more southern population that occurs in the dry central area of the state of Queretaro, Mexico. This species differs from the better-known L. williamsii by being yellowish-green rather than blue-green in color, by lacking any type of ribs or furrows, by having poorly developed podaria (elevated humps), and by being a softer, more succulent plant.


COMMON NAMES OF LOPHOPHORA
The study of peyote has frequently been confused because the plant has received so many different common names. Fr. Bernardino de Sahagun first described the plant in 1560 when he referred to the use of the root "peiotl" by the Chichimeca Indians of Mexico.[14] The two most commonly used names, "peyote" and "peyotl," are modifications of that ancient word.
The actual source and meaning of the word "peiotl" is disputed and at least three theories have been proposed to explain its etymology. Several Europeans have suggested that the term "peyote" came from the Aztec word "pepeyoni" or "pepeyon," which means "to excite."[15] A derived word from this is "peyona-nic," meaning "to stimulate or activate."
A similar proposal was made by V. A. Reko and extensively discussed by Richard Evans Schultes; they suggested that the term "peyote" came from the different Aztec word "pi-youtli," meaning "a small plant with narcotic action.''[16] This somewhat narrow interpretation of the kind of action should perhaps be broadened to mean "medicinal" rather than "narcotic," as the Indians certainly would have thought of the actions of the plant in the former context.
Probably the most widely accepted etymological explanation for the origin of the term "peyote" was suggested by A. de Molina, who claimed that it comes from the Náhuatl word "peyutl," which means, in his words: "capullo de seda, o de gusano."[17] This, translated from Spanish, means "silk cocoon or caterpillar's cocoon." Molina's explanation, therefore, proposed that the original word was applied to the plant because of its appearance rather than its physiological action. Certainly one of the most distinctive characteristics of peyote is the numerous tufts of white wool or hair. Dried plant material has an even greater proportion of the "silky material" and most of it must be plucked prior to eating. The presence of these woolly hairs seems to be of significance because some other pubescent (hairy or woolly) plants, not even cacti, have occasionally been called peyote by Mexicans. Examples of such non-cacti are Cotyledon caespitosa of the family Crassulaceae and Cacalia cordifolia and Senecio hartwegii of the family Compositae. These plants have little in common with the peyote cactus except for their pubescence and the fact that sometimes they have been used medicinally.
The Mexican word "piule," which is generally translated to mean "hallucinogenic plant," may have come indirectly from the word "peyote." R. Gordon Wasson, who has studied many hallucinogenic plants and fungi, suggested that "peyotl" or "peyutl" became "peyule," which was further corrupted into ''piule.''[18] "Piule" is also applied to Rivea corymbosa (Convolvulaceae).
Other names which are apparently variations in spelling (and pronunciation) of the basic word "peyote" or "peyotl" include: "pejote," "pellote," "peote," "Peyori," "peyot," "pezote," and "piotl." The many tribes of Indians who use peyote also have words for the plant in their own languages. However, many also know and use the word "peyote" as well. Some of the tribes and their common names are:
Comanche—wokowi or wohoki
Cora—huatari
Delaware—biisung
Huichol—hícouri, híkuli, hícori, jícori, and xícori
Kickapoo—pee-yot (a naturalization of the term "peyote" into their language )
Kiowa—seni
Mescalero-Apache—ho
Navajo—azee
Omaha—makan
Opata—pe jori
Otomi—beyo
Taos—walena
Tarahumara—primarily híkuli, but also híkori, híkoli, jíkuri, jícoli, houanamé, híkuli wanamé, híkuli walúla saelíami, and joutouri
Tepehuane—kamba or kamaba
Wichita—nezats
Winnebago—hunka
Numerous other common names have been applied to Lophophora. These include:
Biznaga (= carrot-like or worthless thing)—commonly applied to many globose cacti
Cactus pudding
Challote—used principally in Starr County, Texas, one of the major collecting sites for peyote in the United States
Devil's root
Diabolic root
Dry whiskey
Dumpling cactus
Indian dope
Moon, the "bad seed," "p"—these names have been applied to peyote by drug users in the United States in the late 1970s
Raíz diabólica (= devil's root)
Tuna de tierra (= earth cactus)
Turnip cactus
White mule
Part of the confusion with regard to the numerous common names for Lophophora is because they are frequently applied to and/or taken from cacti of other genera or plants from another family entirely.

PLANTS CONFUSED WITH OR CALLED PEYOTE
Two factors have led to the confusion of various plants and the name peyote: (1) a similarity of appearance because of pubescence, a globose shape, or growth habit, and (2) a similar physiological effect or use for medicinal or religious purposes. In fact, most of the plants that are sometimes called "peyote" possess both of these characters.
Many alkaloid-containing cacti are commonly called "peyote" but they are not in the genus Lophophora, and, even though some of the alkaloids are the same, probably they have few or no physiological actions similar to the true peyote. Cacti that have at one time or another been called "peyote" or the Spanish diminutive "peyotillo" are: Ariocarpus fissuratus—more frequently called "living rock" or "chautle" but also "peyote cimarr6n."
A. kotschoubeyanus—usually called "Pezuna de venado" or "pata de venado."
A. retusus—usually called "chautle" or "chaute."
Astrophytum asterias—surprisingly similar in appearance to Lophophora.
A. capricorne—also called "biznaga de estropajo."
A. myriostigma—called "peyote cimarr6n," "mitra," and "birrete de obispo" (bishop's cap or miter).
Aztekium ritterii—another small, globose cactus with superficial resemblance to Lophophora.
Mammillaria (Dolichothele) longimamma—sometimes called "peyotillo."
M. (Solisia) pectinifera
Obregonia denegrii
Pelecyphora aselliformis—commonly called "peyotillo" and sold as such in the native markets. Contains some of the alkaloids possessed by Lophophora, including small amounts of mescaline.
Strombocactus disciformis—similar in appearance to Lophophora and occurring in the same general area as L. diffusa.
Turbinicarpus pseudo pectinata
Other plant families, including the Compositae, Crassulaceae, Leguminosae, and Solanaceae, also have representatives that occasionally are called "peyote." A member of the Compositae was first described as a type of peyote by the Spanish physician, Francisco Hernandez, in his early study of the plants of New Spain.[19] In his book he described two peyotes: the first, Peyotl Zacatecensi, clearly was Lophophora, whereas the other, Peyotl Xochimilcensi, apparently was Cacalia cordifolia, a Compositae which had "velvety tubers" and was used medicinally. Other sunflowers of the closely-related genus Senecio have also been called such things as "peyote del Valle de Mexico" and "peyote de Tepic."
"Mescal" is the correct name for the alcoholic beverage obtained from the century plant, Agave americana, but was also used by missionaries and officials of the Bureau of Indian Affairs for peyote. Possibly this was an attempt to confuse Congressmen and the public into thinking that peyote was an "intoxicant" similar to alcohol, but it just may have been a case of incorrect information perpetuated unwittingly.
The name "mescal beans" has also been applied incorrectly to peyote but actually is the common name of Sophora secundiflora of the Leguminosae. The beans of this plant contain cytisine, a toxic pyridine that causes nausea, convulsions, hallucinations, and even death if taken in too large quantities.[20] The colorful red beans have been used for centuries both in Mexico and the United States by the Indians for medicinal and ceremonial purposes, and sometimes the seeds of this desert shrub are worn as necklaces by the leaders of peyote ceremonies. The stimulatory and hallucinatory nature of these beans probably led to the confusion with peyote, especially when the latter occasionally was called "mescal." The probable relationship of the old mescal bean ceremony and the modern peyote cult also may have led to confusion by white men; this relationship is discussed in chapter 2.
Peyote has also been referred to as the "sacred mushroom"; this confusion probably is the result of the similar appearance of dried peyote tops and dried mushrooms. Also, there are some mushrooms that can produce color hallucinations similar to those of peyote. The Spaniards first misidentified peyote as a mushroom late in the sixteenth century when they stated that the Aztec substance "teonanacatl" and peyote were the same; this mistake was perpetuated by the American botanist, William E. Safford.[21] He and other reputable scientists insisted that there was no such thing as the sacred mushroom "teonanacatl"; they believed that it was simply the dried form of peyote. The problem was resolved when hallucinogenic mushrooms were rediscovered in 1936 and definitely linked to early Mexican ceremonies. In recent years at least fourteen species of hallucinogenic mushrooms have been identified in the genera Psilocybe, Stropharia, Panaeolus, and Conocybe of the family Agaricaceae. It is evident that they are well known to Mexican Indians.[22]
Another plant that has occasionally been confused with peyote is "ololiuhqui," which is now classified as Rivea corymbosa of the Convolvulaceae. Ololiuhqui has been widely used by Indians in the Sierra Madre Occidental of Mexico for many purposes, such as an aphrodisiac, a cure for syphilis, an analgesic, a cure for colds, a stimulating tonic, a carminative (to relieve colic), a help for sprains and fractures, and for relief of pelvic cramps in women.[23] Recent studies have shown that the plant contains several potent chemicals which are ergot alkaloids closely related to LSD.[24] Thus, the effects are somewhat similar to those of peyote: stimulatory at first and later producing color hallucinations. Indians could easily see many "divine" actions resulting from ingestion of the seeds of Rivea and it is not difficult to understand why they and others may have confused it with peyote, another "divine" plant.
Several Mexican plants and fungi are hallucinogenic like Lophophora. The following summary gives the ancient Mexican name, the botanical name or names, the plant or fungus family, and one or more of the main psychoactive substances: [25]
Picietl = Nicotiana rustica L. (Solanaceae)
A species of tobacco which contains nicotine.
Teonanacatl = Psilocybe spp.
Panaeolus campanulatus L. var. sphinctrinus (Fr.) Bresad.
Stropharia cubensis Earle
Conocybe spp.
(All of the above are in the family Agaricaceae)
The psychoactive substances are psilocybin and psilocin.
Pipiltzintzinli = Salvia divinorum Epling&Javito (Labiatae)
The psychoactive principle of this plant is as yet undetermined.
Ololiuhqui = Rivea corymbosa (L.) Hall. fil. (Convolvulaceae)
Tlitlitzen = Ipomoea violacea L. (Convolvulaceae)
Both of the above members of the Convolvulaceae contain the ergot or Iysergic acid alkaloids;
LSD is a synthetic derivative and is not believed to occur naturally.
Marijuana is one of the best-known and most widely used substances currently classified as a hallucinogen. However, there is serious question whether it actually is a hallucination-producing plant (at least in the way that it is used by most people)—and it is of Old World origin. Marijuana is obtained from the genus Cannabis of the angiosperm family Cannabaceae.[26] It is psychoactive but has quite different effects than does peyote.


MORPHOLOGY
Morphological studies, including microscopic examinations, have provided much information about the evolution and relationships of the cacti. Investigations of both vegetative and reproductive parts support the proposal that Lophophora is a distinct genus consisting of two species.
Vegetative parts—The growing point or apical meristem, located in the depressed center of the plant, is relatively large and similar to those found in other small cacti. The young leaf, which arises from the meristem, is difficult to distinguish from the expanding leaf base and subtending axillary bud. The leaf base, usually separated from the actual leaf by a slight constriction, grows rapidly to become the podarium, rib, or tubercle. Thus, the leaf base functions as the photosynthetic or food-producing part of peyote. With sufficient magnification the vestigial leaves of seedlings are often large enough to be identified, but they are never more than a microscopic hump in the vegetative shoot of mature peyote plants.
Spines occur only on young seedlings; adult plants produce spine primordia but they rarely develop into spines.
The caespitose or several-headed condition of the peyote cactus apparently occurs through the activation of adventive buds that appear on the tuberous part of the root-stem axis below the crown. Such growth often is the result of injury and almost always occurs if the top of the plant is cut off. However, some populations of peyote seem to have a greater tendency to develop the caespitose condition than do others.
Epidermal cells, usually five-to six-sided and papillose (nipple-like), have cell walls only slightly thicker than those of the underlying parenchyma cells. Sometimes a hypodermal layer can be recognized early in development, but as the stem matures it does not become specialized and never differentiates from the underlying palisade tissue. Normally the epidermis is covered by both cuticle and wax; the latter substance is primarily responsible for the blue-green or glaucous coloration of L. williamsii. Stomata are abundant, especially on the younger, photosynthetically active parts of the vegetative body. They are paracytic and usually subtended by large intercellular spaces. The subsidiary cells of a stoma usually are about twice the size of neighboring epidermal cells. Trichomes are persistent for many years in the form of tufts of hairs or "wool" arising from each areole. They tend to be uniseriate on the younger areoles but are often multiseriate on older ones.[27]
Ergastic substances are evident in the cortex of peyote. Usually they are druses of calcium oxalate which often exceed 250 microns in diameter, but which rarely are found within one millimeter of the epidermal layer. These anisotropic crystals can be easily seen if fresh or paraffin-embedded sections are examined in polarized light. Mucilage cells do not occur in the vegetative parts of peyote but are found in flowers and young fruits.[28]
The chromosome number of peyote, like most other cacti, is 2n = 22. The root tip chromosomes are quite small, and apparently there is no variation from the basic chromosome number of the Cactaceae which is n= 11.
Reproductive parts—Peyote flowers, in contrast to those of other cactus genera such as Echinocactus and most of the Thelocacti, have naked ovaries or the absence of scales on the ovary wall, a character shared with the flowers of Mammillaria, Ariocarpus, Obregonia, and Pelecyphora. Thus, in Lophophora all floral parts are borne on the perianth tube above the ovule-containing cavity. The flower color of Lophophora varies from deep reddish-pink to nearly pure white; those of L. diffusa rarely exhibit any red pigmentation, making them usually appear white or sometimes a light yellow because of the reflection of yellow pollen from the center of the flower. Development of peyote flowers is much like that of Mammillaria.
Pollen of Lophophora is highly variable. Pollen of the Dicotyledonae tend to have three apertures or pores, while those of the Monocotyledonae usually have only one aperture. Peyote pollen varies greatly in aperture number, the northern population having 0-18 and the southern population 0-6. Though the grains are basically spheroidal and average about 40 microns in diameter, the varying numbers of colpae or apertures produce about twelve different geometric shapes. Such a variety from a single species or even population is rare in flowering plants. The pollen of L. diffusa has less variation than that of L. williamsii; it also has a much higher percentage of grains that are of the basic tricolpate (three-aperturate) type. Thus, the basic dicotyledon pattern is best observed in the southern population, whereas more complex grains occur in the northern localities. Small, tricolpate grains probably are more typical of the ancestors of the cacti and the more elaborate geometric designs of L. williamsii seem to represent greater evolutionary divergence and specialization.[29]
Fruits of peyote are similar to those of Obregonia and Ariocarpus in that they develop for about a year and then elongate rapidly at maturity. The fruits of Lophophora andObregonia usually have only the upper half containing seeds whereas they are completely filled with seeds in Ariocarpus.
The seeds of Lophophora are black, verrucose (warty), and with a large, flattened, whitish hilum. They are virtually identical to those of Ariocarpus and Obregonia although there are some minor structural differences of the testa.
Lophophora seems to stand by itself in possessing a particular combination of morphological characters unlike any other group of cacti. Its nearest relatives appear to be the genera Echinocactus, Obregonia, Pelecyphora, Ariocarpus, and Thelocactus. The character of seeds, seedlings, areoles, and fruits certainly support the contention that peyote belongs in the subtribe Echinocactanae (sensu Britton and Rose) rather than in the more recently proposed "Strombocactus" line of Buxbaum. Perhaps the poorly understood genusThelocactus may be the single most closely related group.[30]

BIOGEOGRAPHY
The genus Lophophora is one of the most wide-ranging of all the plants occurring in the Chihuahuan Desert; it has a latitudinal distribution of about 1,300 kilometers (800 miles), from 20 degrees, 54 minutes to 29 degrees, 47 minutes, North Latitude (figure 8.2). Within the United States L. williamsii is found in the Rio Grande region of Texas. There is a small population occurring in western Texas near Shafter; it occurs in the Big Bend region, and then it is found in the Rio Grande valley eastward from Laredo. Peyote extends from the international boundary southward into Mexico in the basin regions between the Sierra Madre Occidental and the Sierra Madre Oriental to Saltillo, Coahuila; this vast expanse of Chihuahuan Desert in northern Mexico covers about 150,000 square kilometers (60,000 square miles). Just south of Saltillo the range of peyote narrows, is interrupted by mountains, and then expands again eastward into the foothills of the Sierra Madre Oriental and westward into the state of Zacatecas. It extends southward nearly to the city of San Luis Potosi where its distribution terminates (figures 8.3 and 8.4). The southern population of peyote, that of L. diffusa, is restricted to a high desert region in the state of Queretaro. This area of about 775 square kilometers (300 square miles) is isolated from the large northern populations by high, rugged mountains (figures 8.5 and 8.6).
Three factors apparently are responsible for the discontinuous distribution of Lophophora between the large northern and the smaller southern population: (1) extensive saline flats in the Rio Verde region east of the city of San Luis Potosi, (2) formidable mountains: the Sierra Gorda extension of the Sierra Madre Oriental, and (3) high elevations even in the broad valleys. The relatively high desert area in Queretaro apparently is an isolated pocket of the Chihuahuan Desert.
There are great elevation differences from the north to the south within the total range of peyote; the Rio Grande peyote occurs at an elevation of about 50 meters (150 feet), but in the southern portion of its range in the state of San Luis Potosi it is found at nearly 1,850 meters (6,000 feet) elevation. The elevation of the southern population in Queretaro is about 1,500 meters (5,000 feet).[31]
It is unclear to what extent human beings have affected the distribution of peyote. There are areas where man has collected large quantities of the plant, such as near Laredo, Texas; near Matehuala, San Luis Potosi; and in the dry desert valley area of Queretaro. In 1961 I collected L. diffusa in a region near the road going north from Vizarron, Queretaro; in 1967 I returned to the same area but could find no peyote. Farmers living nearby told us that about a year earlier a man from a nearby village whom they called a "Padre" hired workers to collect all of the peyote that they could find in the region. The farmers didn't know why the man had wanted so many plants or what he planned to do with them, but I doubt that they were used for religious or medicinal purposes. Probably they were sold to cactus collectors—or perhaps even destroyed. Fortunately, peyote is a common and widespread plant and it occurs in many areas that are almost inaccessible. However, we may see considerable disturbance and loss of peyote populations in areas easily reached by man.

ECOLOGY
The Chihuahuan Desert where peyote occurs is a type of warm-temperate desert biome. This region has considerable variation in both topography and vegetation, which has prompted ecologists to describe numerous subdivisions. Unfortunately, these subdivisions are not alike nor have they received the same names. Following the classification of the Mexican botanist, Jerzy Rzedowski, peyote occurs primarily in two subdivisions of the Chihuahuan Desert: ( 1 ) the microphyllous desert scrub, which has shrubs that are leafless or have small leaves and are represented by such plants as Larrea tridentata, Prosopis laevigata, and Flourensia cernua; and (2) the "rosettophyllous" desert scrub, with many plants bearing rosettes of leaves, such as Agave lecheguilla and Yucca spp.[32] Probably neither of these vegetation subdivisions can be considered climax communities, nor even formations, because there is continuous mixing of the two life forms. Since there is such confusion between these two subdivisions, perhaps Cornelius H. Muller's general term "Chihuahuan Desert Shrub" should be used to describe the general area in which peyote occurs.[33]
The well-isolated southern population apparently is outside the region normally included within the Chihuahuan Desert. However, the presence of Larrea tridentata and other plants typical of this type of desert is an indication that it should, indeed, be included within the Chihuahuan Desert.
The soils of the Chihuahuan Desert Shrub are limestone in origin and have a basic pH, from 7.9 to 8.3. These soils can also be characterized as having more than 150 ppm (parts per million) calcium, at least 6 ppm magnesium, strong carbonates, and no more than trace amounts of ammonia. The soils test negatively for iron, chlorine, sulfates, manganese, and aluminum. Phosphorus and potassium vary somewhat throughout the range, but in most localities occur in trace amounts or are not present at all. Soils from the southern locality in Queretaro are not different from those to the north.[34]
As stated earlier, peyote occurs in diverse habitats of the Chihuahuan Desert, and no particular plants are associated with it in all localities. Only Larrea tridentata (creosote bush) is found in more than 75 percent of the peyote sites studied; other plants commonly found with peyote and their percentage of occurrence in the sites analyzed are: [35] Jatropha dioica (leatherplant)—70 percent
Echinocereus spp. (hedgehog cactus)—70 percent
Opuntia leptocaulis (pipestem cactus)—70 percent
Prosopis laevigata (mesquite)—70 percent
Agave lecheguilla (lechuguilla)—50 percent
Echinocactus horizonthalonius (eagle claws cactus)—50 percent
Mammillaria spp. (fishhook or nipple cactus)—50 percent
Flourensia cernua (tarbush)—50 percent
Acacia spp. ( acacia )—40 percent
Condalia spp. (lotebush)—40 percent
Coryphantha spp.—40 percent
Neolloydia spp.—40 percent
Yucca filifera (yucca)—40 percent
Hamatocactus spp.—40 percent
The following plants, supposedly typical of the Chihuahuan Desert, occurred in less than 40 percent of the peyote sites studied:
Coldenia canescens
Euphorbia antisy phylitica ( wax plant )
Koeberlinia spinosa (crucifixion thorn)
Of course not all perennial plants growing with peyote have been cited, but this information indicates that peyote occurs over a broad range of vegetation types within the Chihuahuan Desert.
The climatic data from the regions in which peyote grows have been analyzed to obtain an "index of aridity." Using the index of aridity devised by Consuelo Sota Mora and Ernesto Jauregui O. of the University of Mexico, [36] peyote is found to tolerate a very wide range of climatic conditions: precipitation ranges from 175.5 mm up to 556.9 mm per year, maximum temperatures vary from 29.1 degrees centigrade to 40.2 degrees, and minimum temperatures range from 1.9 to 10.2 degrees centigrade. There is also a variation in the time of year that precipitation occurs. Rains typically fall in the late spring and summer in the Chihuahuan Desert, but in certain areas some winter rains do fall. There are peyote populations in both types of areas, so probably they should be classified as being in intermediate rather than strictly summer rainfall regions. The modified index of aridity, which is based on the relationship of temperatures and precipitation, shows that Lophophora exhibits a wide range of aridity, between 64.0 and 394.0. It also appears that the index of aridity is related to elevation, although there are some definite exceptions, such as in Queretaro, where there is a relatively high elevation (about 1,500 meters or 5,000 feet) but an index of aridity that is over 115. This southern habitat, though of high elevation, may be especially arid because of the proximity of surrounding high mountains which cause a more intensified rain shadow.


CHARACTERISTICS OF PEYOTE POPULATIONS
Peyote consists of populations that are not only wide-ranging geographically, but which are also variable in topographical locations, appearance, and methods of reproduction. Commonly peyote is found growing under shrubs such as Prosopis laevigata (mesquite), Larrea tridentata (creosote bush), and the rosette-leafed plants such as Agave lecheguilla; at other times, however, it grows in the open with no protection or shade of any kind. In some areas, such as in the state of San Luis Potosi, peyote sometimes grows in silty mud flats that become temporary shallow fresh-water lakes during the rainy season. In west Texas peyote has even been found growing in crevices on steep limestone cliffs.
The appearance of peyote also varies widely, especially in the species L. williamsii. In some cases the plants occur as single-headed individuals and in others they become caespitose, forming dense clumps up to two meters across with scores of heads. Plants in Texas do not seem to form clumps as often as those in the state of San Luis Potosi, but plants with several tops can arise as the result of injury by grazing animals or other factors. Many-headed individuals are also produced by harvesting the tops. In Texas, for example, collectors normally cut off the top of the plant, leaving the long, carrot-shaped root in the ground; the subterranean portion soon calluses and in a few months produces several new tops rather than just a single one like that which was cut off.
The number of ribs present in a single head varies widely, rib number and arrangement apparently being in part a factor of age, as well as a response to the environment. Rib number within a single, genetically identical clone may vary from four or five in very young tops up to fourteen in large, mature heads (figure 8.4). At other times there are bulging podaria instead of distinct ribs. Field studies have shown that rib number and variation apparently are due to localized interactions between genotype and environment. Because of the high degree of variation occurring in a single population, rib characteristics alone are of little value in the delimitation of formal botanical taxa.
Reproduction occurs mainly by sexual means. The plants flower in the early summer, and the ovules, which are fertilized during that season, mature into seeds a year later. The fruit which arises from the center of the plant late in the spring or early in the summer rapidly elongates into a pink or reddish cylindrical structure up to about one-half inch in length. Within a few weeks these fruits mature; their walls dry, become paper thin, and turn brownish. Later in the summer, usually as a result of wind, rain, or some other climatic factor, the fruit wall ruptures and the many small black seeds are released. The heavy summer rains then wash the seeds out of the sunken center of the plant and disperse them.
Another method of reproduction in peyote is by vegetative or asexual means. Many plants produce "pups" or lateral shoots which arise from lateral areoles. After these new shoots have attained sufficient size they can often root and survive if broken off. If these new portions successfully grow into new plants, they are genetically identical to their parents. Surprisingly, peyote plants rarely rot if injured or cut, so excised pieces will readily form adventitious roots and can become independent plants.

EVOLUTION OF PEYOTE
The evolutionary history of the cacti is not documented by fossils because their succulent vegetative parts did not lead to preservation as fossils in the dry climate. The highly specialized cactus has few distinctive characteristics that probably were present in distant ancestors, but it does appear that the tropical leafy cactus, Pereskia, may represent a form that has changed little from the non-cactus ancestral types. It and many of the more specialized cacti have many characteristics similar to the other ten families of the order Caryophyllales (Chenopodiales) in which the cacti are often placed. Most of these families, for example, have a curved embryo, the presence of perisperm rather than endosperm, either basal or free-central placentation, betalain pigments rather than the usual anthocyanins, anomalous secondary thickening of the xylem walls, and succulence.[37]
The evolutionary picture from Pereskia is only hazy at best, although Pereskiopsis seems to represent an intermediate form in the Opuntia line. The "barrel" or "columnar" cacti, on the other hand, show virtually no links to one another or to any of the more "primitive" cacti such as Pereskia or Pereskiopsis. Apparently the living representatives of the cacti are terminal points of a highly branched evolutionary history, and ancestors no longer exist. Therefore, we must work with characters of living representatives to draw any conclusions regarding the past evolutionary history of the cacti, a procedure of speculation at best.
Certain evolutionary trends appear evident in the two species of peyote. Pollen of L. diffusa, because of its higher percentage of the basic tricolpate type of grain, could be considered more primitive than that of L. williamsii. Likewise, James S. Todd and other chemists have shown that certain of the more elaborate alkaloids are either absent or in lesser amounts in L. diausa.38 This, they feel, indicates that L. diffusa may not have evolved and diversified to as great an extent chemically as has L. williamsii. Also, the greater variation of the vegetative body of L. williamsii, in addition to more varied habitats and a wider distribution, perhaps show a more diverse and highly evolved gene pool.
Lophophora probably arose from a now-extinct ancestor that occurred in semi-desert conditions in central or southern Mexico. Morphological and chemical diversity may have then appeared in various populations as they slowly migrated northward into drier regions which were being created by the slow uplift of mountains. Perhaps L. diffusa represents one of the earlier forms that became isolated in Queretaro, whereas L. williamsii spread more extensively to the northward, producing new combinations of genes that eventually led to a distinct but highly variable species having somewhat different pollen, vegetative characters, and alkaloids from the peyote populations to the south.

CULTIVATION
Peyote is easily cultivated and is free-flowering. On the other hand, one must be very patient if he wishes to grow peyote from seed, as it may take up to five years to obtain a plant that is 15 millimeters in diameter. At any stage, however, peyote can be readily grafted onto faster-growing rootstocks, and this usually triples or quadruples the plant's rate of growth. Japanese nurserymen, for example, have obtained peyote plants large enough to flower within a period of 12-18 months by grafting the young seedlings onto more robust root stocks.
To insure the obtaining of fertile seed, it is advisable to out-cross peyote plants by transferring with forceps some stamens containing pollen from the flower of one plant to the stigma of the flower of another.
Propagation can also be accomplished by removing small lateral tops from caespitose individuals. The cut button or top should be allowed to callus for a week or two and then planted in moist sand or a mixture of sand and vermiculite. It is wise to dip the freshly cut portion in sulfur to facilitate healing. Rooting is best done in late spring or early summer. Eventually a new root system will develop from the top; the old root will produce several new heads to make a caespitose individual.
Soil conditions for the cultivation of peyote are not too critical. As the natural soil for peyote is of limestone having a basic pH, one should provide adequate calcium, insure that the soil is slightly basic, and provide good drainage. Peyote should be watered frequently (every four to seven days) in the summer but very little or none at all in the winter. Fertilizer should be applied while the plants are being watered during the growing season, especially May through July.
Peyote hosts few insect pests and does not need to be treated differently from other cultivated cacti and succulents with regard to pesticides.
Greenhouse-grown peyote plants sometimes develop a corky condition; this brownish layer often covers most of the plant and is not natural. Its cause is not known.
The propagation of seeds is a rewarding experience but requires great patience. Seeds should be sowed on fine washed sand and then covered with one to two millimeters (about one-eighth inch) of very fine sand. Cover the flat or pot with a plastic bag or plate of glass and place an incandescent light (60 watt) or Grolux lamp about twelve inches above the sand. These provide both heat and light. The sand should be kept moist to insure that the humidity is high and that the young plants will not dry out as they first sprout. Germination usually occurs within two or three weeks but growth of the seedlings is exceedingly slow. The plants should be transplanted and thinned after they are about one centimeter (one-fourth of an inch) in diameter.
Most states, as well as the federal government, now prohibit the possession of peyote (see chapter 9), and apparently one is in violation of the law even if peyote is grown as part of a horticultural collection.

NOTES TO CHAPTER 8
1. Jan G. Bruhn and Bo Holmstedt, "Early Peyote Research: An Interdisciplinary Study," pp.384-85.
2. William Jackson Hooker, "Tab. 4296. Echinocactus Williamsii."
3. Theodor Rumpler, Carl Friedrich Forster's Handbuch der Cacteen kunde, p. 233.
4. Charles Lemaire, Cactearum Genera Nova et Species Nova en Horto Monville, pp. 1-3.
5. J. Lanjouw and others (eds.), International Code of Botanical Nomenclature, p. 50.
6. Bruhn and Holmstedt, "Early Peyote Research," pp. 358-60.
7. Paul Hennings, "Eine giftige Kaktee, Anhalonium lewinii n. sp.," p.411.
8. Edward F. Anderson, "The Biogeography, Ecology, and Taxonomy of Lophophora (Cactaceae)," pp. 305-06.
9. Bruhn and Holmstedt, "Early Peyote Research," pp. 384-85.
10. John M. Coulter, "Manual of the Phanerogams and Pteridophytes of Western Texas," p. 129.
11. A. Voss, "Genus 427. Ariocarpus Scheidw. Aloecactus," p. 368.
12. John M. Coulter, "Preliminary Revision of the North American Species of Cactus, Anhalonium, and Lophophora," pp. 131-32.
13. Anderson, "Biogeography, Ecology, and Taxonomy," pp. 299-303.
14. Fr. Bernardino de Sahagun, Historia General de las Cosas de Nueva Espana, X, p. 118.
15. Richard Evans Schultes, "Peyote (Lophophora williamsii) and Plants Confused with It," pp.61-88.
16. Ibid.
17. A. de Molina, Vocabulario de la Lengua Mexicana, p. 80.
18. R. Gordon Wasson, "Notes on the Present Status of Ololiuhqui and the Other Hallucinogens of Mexico," pp. 166-67.
19. Francisco Hernandez, De Historia Plantarum Novae Hispaniae, pp. 70-71.
20. Richard Evans Schultes and Albert Hofmann, The Botany and Chemistry of Hallucinogens, p. 99.
21. William E. Safford, "An Aztec Narcotic," p. 311.
22. Schultes and Hofmann, Botany and Chemistry of Hallucinogens, pp. 36-39.
23. Hernandez as reported in Schultes, "Peyote and Plants Confused with It," p.74.
24. Schultes and Hofmann, Botany and Chemistry of Hallucinogens, pp. 144-51.
25. Wasson, "Notes on Ololiuhqui," pp. 164-75.
26. Richard Evans Schultes, William M. Klein, Timothy Plowman, and Tom E. Lockwood, "Cannabis: An Example of Taxonomic Neglect," pp.360-62.
27. Norman H. Boke and Edward F. Anderson, "Structure, Development, and Taxonomy in the Genus Lophophora," p. 573.
28. Ibid., pp.573-74.
29. Edward F. Anderson and Margaret S. Stone, "A Pollen Analysis of Lophophora (Cactaceae)," pp. 77-82.
30. Boke and Anderson, "Structure, Development, and Taxonomy," p. 577.
31.Anderson, "Biogeography, Ecology, and Taxonomy," pp. 301-02.
32. Jerzy Rzedowski, "Vegetacion del Estado de San Luis Potosi," pp. 219-20.
33. Cornelius H. Muller, "Vegetation and Climate of Coahuila Mexico," p. 38.
34. Anderson, "Biogeography, Ecology, and Taxonomy," p. 302.
35. Ibid., pp. 302-03.
36. Consuelo Soto Mora and Ernesto Jaurequi O., Isotermas Extremas e Indice de Aridez en la Republica Mexicana, pp. 26-28.
37. Arthur Cronquist, The Evolution and Classification of Flowering Plants, pp. 177—80.
38. James S. Todd, "Thin-layer Chromatography Analysis of Mexican Populations of Lophophora (Cactaceae)," pp. 395-98.

Figure 8.2
Natural distribution of the two species
of peyote, Lophophora williamsii and Lophophora diffusa.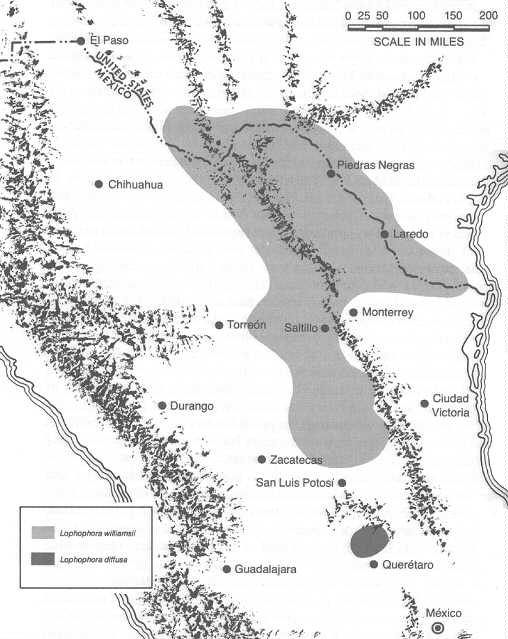 ==============================================


Peyote Night
Humphry Osmond
This article originally appeared in
Tomorrow magazine, Spring 1961.
---
The Native American Church is a religious movement which originated among the Indians of the Southwestern United States. Its main features involve the use of peyote, a psychedelic, or mind-manifester, drug obtained from the dried tops of a cactus that contains mescaline, in a ceremony combining Indian religious motifs with certain Christian themes. The drug and the ceremony are fused together in a manner acceptable to many Indians today. My interest in this church was a professional one, springing from my researches into psychedelics, the vision-producing drugs the Indians use in a group setting. So far as our research group could make out, the Indians were the first people who used these substances together with certain aspects of Christianity. We had heard about them in different ways. Religious people who wanted this sect suppressed had published complaints in various newspapers. In my country, Canada, there had been questions and statements from a Minister in the House of Commons at Ottawa. A police report we read suggested that peyote was both a dangerous poison and a drug of addiction. Professor Charles Seevers of Ann Arbor, one of the world's leading authorities on both peyote and mescaline, one of its active principles, has frequently stated that it was of low toxicity and that he had no evidence of anyone becoming addicted to it. The U. S. Public Health Service Narcotics Section at Fort Leavenworth have never treated a peyote addict.
One of the clearest and kindest accounts of them and their religion came from the late Professor J. S. Slotkin of the University of Chicago. He had visited the Canadian branches of the Native American Church of North America in the summer of 1956. He told us they were being persecuted, not very obviously, thoroughly or determinedly, but although it was mild and intermittent, it was persecution all the same. Some of these persecutors did not deserve the label, for they were good people genuinely concerned about the Indians, who had been misinformed about the nature of the peyote rite. They were naturally worried by reports that the Indians were obtaining a dangerous and addictive substance and engaging in wild orgies. There was reason to be concerned after the damage liquor has done to some Indians in the past. Along with these people who had a real interest in the Indians, there were others who never lose an opportunity to meddle in other people's affairs. There is not too much scope for this hobby in western Canada today, but the Indians, being government wards and a special minority group, are particularly susceptible to this sort of interference. As the scholarly Slotkin explained to us, "Their conditions are wretched. They are demoralized. Many of them hate and despise farming. The Native American Church is something of their own, born of their misfortunes and developed from their pre-Columbian traditions. It has grown and flourished in spite of white men, and this makes it even more precious to the Indians."
Slotkin thought we could do no harm by attending one of their services, and we might help. It would at least show them that all white men were not hostile. Their services have been described as orgies only by those who have never attended them. It is curious that the early Christians had much the same accusations leveled at them by the Romans, whose staid, formalized, official religion had become little more than an annex to politics, devoid of enthusiasm and feeling. Any young religion (Quakers in Fox's day or the Methodists in Wesley's are examples) usually manages to offend longer-established churches, just as young lovers are something of a reproach to long-wed people, for they reflect a vision of love that time has more or less dimmed. Long-married people in whom time does not produce this dimming can be embarrassing to their more habituated contemporaries.
We corresponded in a desultory way with the Indians of the Red Pheasant Band, from among whose members most of the congregation of the Native American Church of Canada was drawn. The Church had been duly registered as a religious body and so was safe from direct persecution. But the supply of peyote, their ceremonial cactus, came from the United States, and this made them vulnerable to administrative pressure, as later events have shown.
In September 1956, we learned that Mr. Frank Takes Gun, President of the Native American Church of North America, was planning to come north from his home in Montana to see how his fellow church members were faring in Canada. Shortly after this, we were invited to North Battleford. We drove north, picking up Dr. Abram Hoffer in Saskatoon, armed with a tape recorder, blankets, and lots of notebooks. Two members of the Saskatoon Star Phoenix staff traveled with us. It was a glowing early fall day, and the stubble was still live enough to give the land a blond, crew-cut look. We arrived in North Battleford late in the afternoon of the sixth of October, 1956. Mr. Takes Gun and his companion, Mr. Russell, came to see us in our hotel. They had had a harassing time getting the hard-pressed Red Pheasant Band to organize the ceremony. They are poor Indians. Mr. Takes Gun had helped them to get permission to pitch a tepee for the meeting in the grounds of old Fort Battleford. He was also inquiring into the legal help the Indians were getting in Canada. The Indians' way of conducting business is still not very like that of the white man, and there is much misunderstanding.
I was tired and a little apprehensive on at least two counts. My colleagues and I had decided that, while they would watch and record the ceremony, I should take part in it, and observe from the inside, as it were. I did not wholly enjoy the idea of taking peyote, although I have used a variety of mind-changing substances in the past few years. These have included taking harmala, the seeds of Syrian rue, which has a disgusting taste; kava-kava, the roots and leaves of a South Sea Island pepper plant; ololiuqui, the seeds of Rivea corymbosa, a vine-like plant from Mexico, once the chief and sacred narcotic of the Aztecs. I had also taken chemically pure mescaline, one active principle of peyote, and the immensely powerful Lysergic Acid Diethylamide, both derived from plants. In addition, we had worked with a new group of substances derived from adrenalin, whose use in this field had been discovered in Saskatchewan. I had, however, never taken peyote before. I found its dried, shriveled, and furry appearance uninviting, and reports said it frequently produced nausea and vomiting. I did not relish the idea of vomiting in public. My second worry was a more serious one. I had much sympathy for the Indians and wanted to assist their cause, but as an honest observer I would have to report everything that happened. I was concerned lest the service should be ill-conducted.
Mr. Takes Gun was clearly worried about me. He told me repeatedly that they would have good, clean city water and that the cups would be personal and hygienic. The peyote, he assured me, would not be difficult to take, but would be made soft with a coffee grinder and wrapped individually in Kleenex. He is of medium height and very solidly built, of that almost pure mesomorphy that one finds often among the Plains Indians. His face might have been carved from old, oiled, highly polished teakwood. He glistened in the afternoon sun-for he was nervous. His eyes and hair were black. He had the longest ears I have ever seen. His face was impassive. This made one notice the eloquence of his hands all the more (one finger was missing from the left one); his gestures were as expressive as a Latin's.
Mr. Takes Gun left us to make the final preparations for the ceremony. We agreed to be at North Battleford a little after sundown, and, before he left, he gave me a final reassurance about the purity of the water. We crossed the golden valley of the South Saskatchewan River and drove up the hillside to the old fort. They had set the teepee on the short grass inside the stockade. It was small and pale, its ventilator flapping in the breeze. The clear night sky with the stars appearing and the faint swirl of northern lights seemed about to engulf us. Outside the teepee there was a great stack of small logs.
The ceremonial fire in the center of the teepee was ready for lighting. It was between the horns of the low, crescent-moon altar shaped from molded earth. Only the fire tender occupied this middle space. The rest of us, eight observers, including two journalists, and fourteen Indian worshipers, were ranged around the circumference of the teepee. Apart from Mr. Takes Gun, and Mr. Russell, who had driven up from Montana, our hosts came from Saskatchewan, mostly from the Red Pheasant Band, though a few had driven over from Alberta. The elders of this group were Mr. Nicotine and Mr. Stone. There were several younger men and two Indian ladies. All looked spruce and neat. They had clearly put on their best clothes for the service. I sat on Mr. Takes Gun's left so that I could learn about the ceremony from him. He was the leader, and Mr. Russell, on his right, was his drummer.
In a teepee, one sits with one's back slightly bent and one's head forward. However one places the legs, they get stiff, the long hamstring muscles in particular. Cramping pains can be a nuisance. Mr. Russell played the fire taps on his drum, and the fire tender lit the prepared wood. Sparks rose up and fluttered in the darkness above us before vanishing. The teepee was filled with the pleasant, acrid smell of sage, thyme, and burning logs. Mr. Takes Gun put a single leaf and then a large peyote button on the moon altar. The rest of us remained seated, and he was silent. He consulted his watch from time to time. At eight-thirty he began to read a written address he had with him. He asked for "Religious freedom for the Indian form of Christianity." He quoted the Declaration of Independence with its inalienable rights, which include religious freedom and the pursuit of happiness. The long Indian faces, dark in the fire glow, expressed melancholy, dolor, tragedy. "We want to be let alone to worship our God as we wish." He then addressed the observers directly: "I trust you will tell the truth and nothing but the truth so help us God." It is no easy matter even to observe accurately enough to be sure what the truth might be, and having done this, how should one convey the truth so that it will mean something to someone else? I wondered how I would be able to communicate the solemnity of that frail teepee. It was like being inside a lighted Japanese lantern, suspended in eternity.
The smoke started the ceremony proper. The Indians are masters of symbolism; a few eagle feathers, a pinch of sweet herbs, a little water drum, a gourd rattle, a fire, and little more, are all the aids they need for worship. For them, everything that is, is holy. They have no written prayers, but as among the Quakers, everyone prays according to his conscience. So a cigarette made from cornhusks symbolizes for them the purification and dedication of the human spirit to a greater spirit. The tobacco was handed around in a soft leather pouch. It was runny, with many small grains. I am not a smoker. I fashioned my cigarette clumsily and the tobacco leaked out, and the result was rather emaciated. A glowing brand was passed around for lighting the cigarettes. Shortly after mine was lit, I choked. The fire felt very hot on my face, almost scorching, while behind I was chilly. It did not seem a good start for the evening.
While Mr. Russell beat the drum, Mr. Takes Gun chanted and shook the rattle. Sometimes he used English and sometimes his own tongue. The wind noises were lost in the chanting and the drumming. His voice rose effortlessly from a firm baritone to a high, clear falsetto.


Dear Heavenly Father,
We are representing our folks under this teepee.
Dear Heavenly Father, Dear Heavenly Father
Bless these men that are observers here.
Dear Heavenly Father,
These poor people surrendered all their lands
To the Government of Canada-their conditions
Are pitiful.
Dear Heavenly Father-bless my people back home.

Then he continued in his own tongue, which seemed made for rhetoric, for declamation, and his voice rose in searching falsetto. The Indians maintained a low background of song in their three different languages. The faces of his fellow worshipers were angry, resigned, supplicating, shifting with the changes of rhythm and the flickering fire. The chorus ceased from time to time and the leader continued alone, his voice cascading and dying away, the song of a bird fluttering against a great storm. The fire glowed. An Indian wept. We placed our cigarettes around the base of the moon altar.
At about 9 P.M. the peyote was brought in. It was carried in a little white cloth sack, which was handed from person to person. Mine came separately; it had been macerated in a coffee grinder and each button wrapped in a white tissue, so courteous are the Indians. They themselves crunched the hard, dry, furry cactus tops determinedly, as one cracks nuts with one's teeth. I nibbled cautiously at my soft, damp residue. It has a sharp taste, which lingers in the mouth. It is bitter and sour on the stomach. It repeats on one. It is not as bad as ololiuqui, and is pleasant compared with the sour, oily, rancid seed of the Syrian rue. Mr. Takes Gun belched a little after swallowing his. Peyote takers, making a virtue of necessity, sometimes allege there is something especially valuable about the nausea it induces in some people. As in other religions, rationalizations are always ready to help out anything unpalatable. I was glad when I swallowed the last bit of peyote. My apprehensions about vomiting were unnecessary.
The drumming and singing continued. The water drum is made of blackened iron covered with hide. Seven knobs on the side represent the dipper stars. Behind the singing there is always drumming and rattling. The drum beat in the brain and wearied me; every drummer seemed much the same. The fire tender moved the ashes into the space between the horns of the moon, so that it gradually filled up with fine wood ashes. I had respect for the ceremony. It was reverent and well conducted. But I was still not of the group, even though I was among them. I scribbled away at my note pad and often watched my observing colleagues, who were at the other side of the teepee.
At about nine-fifteen I wrote, "The young man with the superb face, puzzled by his fate-he has a kingly face," and again, "if feeling gets to God, this must." By nine forty-five there was a ghost of brilliant color in my eye grounds when I closed my lids. I felt remote and slightly depressed. The roof flap fluttered like a lost soul. The teepee is a microcosm, a tiny mirror of the universe. The fire glowed red and smokeless; the fire tender handed around a smoldering brand for those who wanted to smoke. Mr. Takes Gun recited prayers in his language-as he smoked, his hands moved with extraordinary delicacy. It was an unorgiastic orgy. The Indians sing without opening their mouths much, and often they hardly move their lips. They sing with their sound box and chest, while we use our lips, tongue, and sound box. I was never quite sure where the singing was coming from, and it was sometimes almost impossible to decide who was singing and who was not.
By about ten I had become more aware of what was happening, and recognized that peyote was starting to affect me. My sight was sharper and my hearing more acute. Looking around the teepee, it struck me that we white men, outnumbered in this tiny world, were an even smaller fraction of the larger one. I found it hard to write and did so reluctantly because, as I noted, "... it broke the chain of feeling." I got nothing down on my pad for the next hour and a half. Visual changes continued and increased during this time. They never became very marked, but at times the Indians seemed hostile. Their faces became distorted with anger. I realized that this was probably the effect of peyote and so did not become panicky. I felt that I was an intruder whom the Indians did not trust-they had no special reason to. I did not seem close to them. Peyote works slowly and subtly. It is well suited for a gathering of this sort, where people of differing temperaments, who do not necessarily share a common language, worship together and explore reality without the cushion of words and supported mainly by ritual.
A photographer took some flash pictures at about ten or fifteen minutes before midnight, and then I started writing again. The Indians chanted, drummed, and used the gourd rattle. Only their faces were impassive. The ceremonial swept me along with it.
At midnight, water was brought in. This was the pure city water Mr. Takes Gun had promised me earlier. It was in a new, white enamel pail with a swan transfer on the outside. It was passed around, and we drank from individual paper cups. It could have been depressingly hygienic, but the intention was a generous one to put me at ease. He then said, "Pray to God and ask him to bless the water." He explained that the Indians held their services at night, while the white man sleeps, because God would have time to spare for his Indian friends. He urged his fellow Indians to bring up their children to be intelligent and progressive, adding, "We are representing our lives here." Then he left us and, walking around the outside of the teepee, blew piercing blasts on an eagle's-bone whistle at the four compass points. The sound shrilled through aeons of space and corridors of time. It echoed to eternity. When he came back to us, he prayed, "... that the Universe may prevail."
Shortly after this my fellow observers left for what must have been twenty minutes or so, but it could have been as many centuries. I stayed behind with the Indians, and I became part of the worshipers. I entered their world, where for generation upon generation they had hunted the buffalo. They had lived with and on the buffalo. They were of one piece. They were the buffalo. Their lives were part of those shaggy lumbering herd beasts whose myriads roamed the great plains. On these wide prairies, where trees and hills are almost equally scarce, sound often conveyed as much as sight. So the Indians call up their past with song, with drum, and with rattle. For them, minute alterations of rhythm and pace evoke ever-changing images. Because we cannot hear as they do, the drumming and rattling seem endlessly repetitive to us. The drumming was the steady running of a man with his dog padding beside him. It was the pawing and thudding of buffalo hooves crescendoing in thunder. It was the gentle crumpling of dung falling or the soft plop of a calf dropping on turf, soundless, yet heard by the hunter. The gourd evoked the endlessly sifting wind, catching at scrub and grass as it passed. It was the hissing of an arrow as it leaves the bow or snakes by one's head in battle. It was the sizzling of buffalo meat grilling on the campfire and the creak of a hide teepee as the blizzard twists and whirls around it. The drumming was life and death, scarlet blood spurting from a stricken buffalo or from a fallen warrior. Yet it was also the first fluttering of a child inside its mother. As he sang, a young man wept, and Frank Takes Gun said, "Shed tears on mother earth that the Universal God may take pity on him."
When my friends returned, I felt that the Indians and I were one and that, for a little time, or more accurately, a different sort of time, I was of their world rather than that of my colleagues, their conquerors. It was not simply that I realized they had a point of view I could respect, but that I felt in my bones as they felt in theirs. Looking back, I do not believe that this was an illusion, for I continued to be much more aware of their way of looking at things. But how could one prove such an opinion-without fine instruments for measuring a man's system of values.
The women did not drum, sing or use the gourd rattle, but they smoked, took peyote, and played a large part in the morning ceremony. They also prepared the feast for the next day. Women only very rarely enjoy their highest status among nomadic people.
The Indians must have begun to filter down from Siberia about ten thousand years ago, and as they reached the great central plains they spread out in the wake of the buffalo. For some mysterious reason, horses, which had once lived in America, died out long before man arrived. So the newcomers hunted on foot. Unlike our forebears, who were harassed and pushed west by waves of horsemen from Central Asia, many tiny Indian societies grew up far apart from each other, isolated by vast distances. There were occasionally brief, savage, and ceremonious wars on the prairies, in which little groups of men raided the enemies. In these, courage counted more than killing. Apart from this, their whole lives, their very existence, was at the heels of those heavy monsters. Pursuing them, they had endured drought and cold, furious rainstorms and blinding blizzards. For a very short time, a few generations only, they had horses, which, escaping from the Spaniards, bred splendidly on the grasslands. Few people accept an innovation so quickly and successfully as the Indians took to the horse. They were centaurs. The drumming told of that age of glory when, to the beat of horses' hooves, they swept across the prairies like wildfire and hunted with a splendor never surpassed. Then the white settlers invaded the prairies, and the unequal struggle between hunting peoples who lived in space without time, and the season-bound rapacity of the cultivators of the soil, began. The hunting grounds were eroded. Finally the buffalo were slaughtered wantonly by the million. With that holocaust, their traditions, their way of life, their world, their universe collapsed, and the veil of their souls was rent. Braves became bums, for there was nothing manly left to do. Their women mourned for them.
I was drenched in that world of sound, of singing, drumming, and the subtly changing rhythms of drum, rattle, and voice. We are a more visual people than the Indians, and this is perhaps why they seem impassive to us. We watch, in particular, for changes in facial expression and do not notice the auditory signals with which the Indians communicate their feelings. Those long silences during which they let the unspoken flow between people simply make us tense, embarrassed, uneasy, and ready to burst into nervous chattering.
The blue-shirted young man who had been weeping said, "Frank, can I have some more medicine?" and the little sack was passed along to him. He crunched two more buttons and began to sing and use the gourd rattle while his companion drummed. His song rose above the drumming, was drowned by it, and rose again and again, faltering but struggling still. It was an agony. The drumbeats were strides of fate. Life must go on, pain or no pain. There could be no concessions. The young man wept and sang for himself, for his people, for every human being who has ever quailed before the harshness of life. After singing, he was easier, and the rhythm of his drumming reflected this. There was in it a little of that cosmic beat of Tchaikowsky's great Second Movement of the Fifth Symphony, when, for a brief while, he heard and transcribed what must surely be the pulsing of the galaxies. I watched the young man, and I think I experienced some of the queasiness that peyote induced in him. Like most young men, he longed for a life that meant something-a life of action, danger, pain, defeat, torture, and death at the hands of his enemies if necessary. A life like that of his ancestors who lived on the prairies for centuries before. Anything rather than the humiliating meaninglessness of the present. But the drumming told him, "You cannot go back. You can go forward. It will be rough, but it can be done." It is sad to be a warrior from generations of warriors with nothing warlike to do-an Achilles without Troy, staying at home among his mother's spinning women.
The fire tender kept the hearth meticulously, and the moon altar, which had started as a thin crescent, filled up steadily. When a singer had sung his song, the Indians sat in silence and absorbed it. They applauded with a low guttural noise that might be a hum. They were polite, sensitive, and seemed very courteous and alert toward each other and to their guests. By now it was almost three in the morning, and most of the observers were asleep; one snored loudly and had to be prodded by his neighbor. The visual imagery I usually experience with psychedelic substances was much reduced in this setting, and the auditory imagery very much increased. I responded to every nuance of their drumming. They use a tiny range of sound with which to express themselves, and this is saturated with emotion.
The sparks spangled the upper darkness of the teepee every time the fire was stoked. The teepee was the universe. It had not increased in size nor changed its shape, but the sound had expanded it beyond thought. The young man still cannot bear his fate. All the warrior in him is assailed by it and revolts against it. But he must listen to the voice of the music, which is greater than man. He sings again, this time in high falsetto. There is a note of triumph in it, and perhaps peyote has dissolved the aching in his heart-for a little while.
The teepee smelled of wood and wood smoke, burning herbs, sweat. I noticed the tanginess of the smoke, like in a kippering room. It clung to my hair and clothes for days afterward. The Indians are creatures of sound and smell, with auditory symbolism predominating. We are creatures of sight and sound, with visual imagery predominating. Every drum tap has a meaning for them.
Through the small hours they sang of fleet horses and tireless riders, of unwearying runners and faithful dogs padding beside them. The stories are woven into the drum rhythms. They fanned themselves with a few eagle's feathers, evoking arrow, war bonnet, and battle club-endless parleys, powwows, and ceremonial meetings. They had few songs of war, and they returned always to the death of the buffalo, their banishment from the prairies, and so their unmanning and loss of their warrior status. The buffalo hoofbeats are in them as the sound of the sea is in me from generations of seafarers. The Indians may be poor and defeated, but they are not contemptible. They reveal themselves to each other with peyote in humility, but also in pride. For although they revere the Universal Spirit, they do not cringe. They are not ashamed of being men, for so they were created. They do not ascribe their misfortunes to sin, and are thus saved from much futile self-blame.
Mr. Russell's drumming was splendid. Frank sang of the long winter nights and their hopes of endless buffalo herds. He sang, too, of that brief time when they tamed horses, molding long-maned and long-tailed wildings to their will. This reminded me that the Trojan hero Hector, tamer of horses, was exercising with his chariots on the windy plain of Ilium when their ancestors were hunting the buffalo on foot, over these same prairies. The service was very simple and drew the participants into it. Once I lost my fear and unsureness, the Indians accepted me with dignity, as an equal. I was impressed by their economy of gesture, the faultless taste of their religious art; like a very dry sherry, it is not for every palate. The prairies have molded them over the centuries-they are a people of the open spaces; their God is an open one of the wide earth and the limitless sky-not a shadowy, hidden god of the forests and thickets. Their Universal Spirit is mysterious in its immensity and omnipresence. Man's problem is not to find God, for it is impossible not to be aware of Him, but to relate oneself to Him in the best possible way.
By four-thirty I was becoming more aware of my hosts as individuals. We had experienced something together that cannot be contained in language. Poetry or music would come closer, but I am not a poet or a composer. The wind fretted around the teepee. The singing was like voices calling in the dark, calling for dawn to come, for winter to go, for the buffalo to return, for a child to be born.
Mr. Russell had the black drum passed to him. He sucked a little water from it, tautened the hide, and smoothed it with a caress. Frank Takes Gun explained the next part of the ceremony. "You have only seen three last night-the leader, the drummer, and the fireman. Now you will see the fourth. Thank God we have lived to see another day. We represent our lives: we don't imitate anything. The foundations of human life rest with our mothers who delivered us into this world." The Mother stepped into the teepee through the door flap, announced by the shrilling of the eagle's-bone whistle. She sat down by the white enamel waterpot. The teepee was dim, the fire was low, but some wisps of smoke rising from it seemed to surround her. She had a red blanket around her shoulders, a blue dress, smooth black hair, and her face seemed very broad. She was greeted by a song of welcome with voices, drum, and rattle. With the singing, she became superb mother earth, mother prairie, grass, cow buffalo, mare, and doe, the epitome of motherhood. The drum beating was not restful or sleep inducing. It was the fecund pulsing of sex, passion, generation, and death, sung without guilt and without self-consciousness. The mother was weary, patient, tender, but enduring. She stood behind all the men-drummer, fire tender, leader. In front of her were the waters of life and death.
Frank addressed her in the highest falsetto, a tearing, almost noiseless scream, the cry of the tiniest baby or of an old man breathing his last. It was unbearable. The mother could have been any age-maid, mother, or crone, from sixteen to a hundred sixteen.
"You have been good to us while we were here. You worked hard and made this possible. God knows we worship Him. God knows we respect the mothers of our children."
Mr. Dave Stone, the oldest man present, spoke to the mother in his high, light voice. His voice was very clear and would carry over great distances. The wind had risen, and the day was being born with a storm. The old man called upon the mother and sprinkled dried Sage on the fire, sweetening the air in her honor. She took a cigarette and lit it from the fire tender's brand. The smoke she exhales is the life she gives. Above her head, the dawn lightened the teepee flap. The fire was low. She drew on a cigarette. Its glowing tip was as evanescent as a man's life, almost aflame one moment, out the next. She prayed and smoked.
This is the mother who bears the baby, who nurses and cossets the infant, who rears the child and watches him grow into a young warrior, drummer, fire tender, or leader, who is possessed by him and who laments him when he dies. She is indomitable. Warriors die, but the mother, slave or matriarch, she is always there. Her voice was low and clear. She dominated the teepee-the mother who bears and the mother who buries her children. Her prayers were followed by rumbles of agreement. She reaffirmed the will to endure, to live on. The worshipers were deeply moved. Frank whispered to me, "That is how much they respect their mothers." But it was more than respect. It was awe. She conveyed the sorrow of a woman's lot in a destitute people. The dawn caught the pointed top of the teepee, but below where we were sitting, the fire was so low that I could hardly see to write.
Mr. Russell whispered to me, "Praying with the smoke-something good-something lasting forever." The Plains Indians were a Dionysian, an apocalyptic people, frugal but generous; no middle way existed for them-conquerors or conquered, no in-between, no compromise. The smoke breath was caught up with the warm air over the fire and twisted up into dawnlight. It struck me that with another turn of the wheel of history we Caucasians who, by means of gunpowder and printing, have gained so much authority in the world, might find ourselves subject to peoples who possess skills we do not have. No one who had been with the Indians as I had been could feel superior to them. The blue-shirted warrior is almost reconciled to living an unheroic, undionysiac life. It is against his whole being. But the drumming, the singing, and peyote have worked their magic. The buffalo are no more; the dawn is coming; there is a life to face now.
The observed were awake and alert, the observers mostly sleeping. At six, dawn came to us as the teepee flap was opened. We had wrestled with the angel. We had grappled with the Heavenly Father.
Water was poured into the hygienic cups again, and a little more was put into the drum. I was asked to say a few words, the stranger whom they had made welcome and allowed to enter into their mystery. I thanked them for their kindness to me and told them that I would do my best to tell people about their worship clearly and honestly. I also said that it would be no easy matter to convey to those who had not shared our experience and who do not have the Indian sense of oneness with life.
A child had come into the world again. Dawn lit the stockade, and the wind was chilly. Life had begun again and must be faced. The voice of the singers rose clear and high-a child's cry of delight at buffalo hooves thundering far away. The fire flared a little as if trying to hold back the morning, but it failed. The center of the tent floor was covered by a great, grayish-white half-moon of charred wood ashes. The mother left us. The barrier of everyday life began to return.


Aftermath
The sun was just coming up when we left them at about half past six. We felt that our Indian hosts would be easier if they could have their morning feast without us. There were handshakes and promises that we would do our best to tell our people about their religion. As I left the tent, I took a last look at the whitish-gray expanse of the moon altar: the three young men, including blue-shirt, were singing and drumming together by the door flap. They were very blithe. Outside, Mr. Nicotine and Mr. Stone stood by the mother and waved to us as we left. The teepee seemed too small and frail to have contained so much, but the drumbeats surged out of it as evidence of the extraordinary power concentrated there. I slept a little and thought much when I returned to the hotel. I felt relaxed and happy. I felt that I had seen the Indians, and what I had seen had cheered me. I wrote at this time, only a few hours after the ceremony, "We cannot ape them, but we can learn from them and perhaps gradually adapt their religion to our needs, as they have adapted ours-feel tired, at peace, an enlarging of the spirit." A little later, on my way back from North Battleford, I noted, "Peyote simply reveals what is the potential in all of us. The Indians, whose gifts have for so long been run down by the whites, have found that in spite of being poor Indians, the spirit of God is still with them. This is an immense advance. It is a new hope, a new humility, a new pride."
A day later I wrote, "Indian singing is incomprehensible to most white men simply because they have never learnt the fine discrimination of the Indian in matters of sound. Clearly a people who have lived in an almost soundless country (and the prairies are almost soundless to the city ear even now) would learn to pick up a different range of sounds and would use these sounds in their music. Grasses, grasshoppers, dust sifting, the wavelets on little rivers splashing, the shushing of wind among low bushes, and wind sounds infinitely varied with the seasons. Then, in great contrast, the very loud sounds-the sounds inside one, the heart thudding, etc., particularly loud when one is surrounded by great stillness; hooves stamping or clopping regularly; the drubbing stampede of the buffalo-again infinitely varied by terrain and weather, and the crash of thunder reverberating over the endless prairies. Birds few in number compared with the space, and therefore all the more memorable. Color on the prairies in great general masses with very small changes. The Indians would be used to the very large and the very small. Also the effect of six months or so of snow."
Then there was the matter of the resemblance between liquor and peyote that has been raised so often in the press. I made a special note about this: "Alcohol and peyote (psychedelics generally) are antithetical. Alcohol produces a downward transcendence, peyote an upward one-the difference between leveling up and leveling down. Alcohol allows one to relate to others by being more sure of one's self. This, in small doses, is much better than not being able to relate at all, but it is a very precarious business, and selfishness may soon end in brawling and ill temper. Peyote acts not by emphasizing one's own self but by expanding it into the selves of others, with a deepening empathy or in-feeling. The self is dissolved and, in being dissolved, enriched. It becomes aware of the nobility of other selves and so of itself."
I tried repeatedly in the next few months to organize my experience, but it would not be organized. I carried my notes around with me and made many drafts of papers that were never completed, because they did not seem to carry out my obligation to Frank Takes Gun and my fellow worshipers of that little band. It was not until three years later, when I was quite unexpectedly asked to give a short broadcast about the peyote ceremony, that I began to see how I might be able to convey something of that night in the teepee to people who had not been there and who had never taken peyote or other psychedelics.
How does it look three years later? Has the wonder and beauty of those astonishing ten and a half hours receded so that they now seem unreal? Did my difficulty in writing about the experience of that strange night arise from a growing feeling that my notes were muddled and that I was as muddled as they? I do not think so.
That night in the teepee has resulted in many studies by my colleagues and me. We have observed the effects of psychedelic substances on groups of people taking them together-for various reasons, we did not use peyote. The Indians have been very skillful in structuring their ceremony so that it best meets their needs. They are such masters of symbol, ceremony, and ritual, that this is hardly surprising. It would be unwise and impertinent to ape their religion, which developed from their agony when they lost their hunting grounds at the end of the nineteenth century. Our needs are very different from theirs. So we must follow a different route.
We have suggestive evidence that psychedelics, properly used, can increase communication and understanding between those who take them together, and this is not simply a drug-induced delusion. It seems to persist long after the effects of the chemical have disappeared. This has not yet been proved. Proof in such a matter is not easy, and so for the moment we have to rely on personal opinion. We have to find some way of showing these effects so that they can be easily understood. But we have to recognize that we are dealing with aspects of the human mind that are even more elusive and mysterious than the depths of space and time.
Due to the interest and generosity of Mrs. Eileen Garrett, President of the Parapsychology Foundation, several of us have taken part in two international conferences about psychedelics. One was held in New York in November 1958 and the other in Le Piol, France, in July 1959. Both these conferences were attended by scientists of international repute. At both of them there was general agreement that these experiences induced by psychedelics, which fall into the category of what William James called "unhabitual perception," call for sustained inquiry and research. It was encouraging that the impetus for these meetings, which drew contributors from many countries, arose in a frail teepee raised by members of the Native American Church, mostly from the Red Pheasant Band, above the South Saskatchewan River three years ago.
In one respect, however, we have failed, at least so far. We have not been able to help members of the Native American Church of Canada to obtain peyote, which is the sacrament of their faith. Its importation is banned by the federal government department concerned with these matters, by means of a legal technicality. So far as we know, this has never been disputed in a court of law or debated in Parliament. The attitude of government, "We are doing this for your own good; we can't explain why because you wouldn't understand," is infuriating, unwise, and unnecessary. Among its other objectives, we hope that this article will lead others to question seriously such well-meaning but arbitrary attempts to do good. The Native American Church and the religion its members practice, far from demoralizing them, is likely to help them in their struggle to adapt to a very unfamiliar world.
Surely we can be fair-minded enough to pay respectful attention to this bold attempt by the Indians to develop a new way of coming closer to the source of all things. They do not want to convert us to their ways. They do not claim that the peyote road is the only way of reaching out toward their Great Spirit and Heavenly Father. In Frank Takes Gun's words, "We just want to be let alone to worship our God as we wish." Must we obstruct and attempt to crush a new religion, which is beautiful and has never been shown to do any harm, simply because it is unfamiliar and because we can't imagine that it would work? Can we not let them tread their peyote road and see what happens-provided they conduct their services decorously and account properly for the peyote used? They would, I believe, welcome observers from time to time. Those observers could see and experience for themselves the form of worship that the aboriginal inhabitants of these lands developed when their world was tottering. The loss of the hunting grounds and the slaughter of the buffalo was for them an even greater catastrophe than that appalling event one early morning at Hiroshima in August 1945.
I shall not forget my Indian hosts, who took me back to a life through which all mankind has passed. A harsh, fierce, dangerous, passionate life where hunter and hunted are one. A life rich in beauty and meaning. Little more than eighty years ago, this was their life and had been so beyond the memory of man. In a few short, terrible years it was torn from them, and they are still bewildered at the world in which we are clumsily trying to find a place for them. But then perhaps we share some of that bewilderment, for our new world is unimaginably strange. Should we not join them in their prayer that "... the Universe may prevail"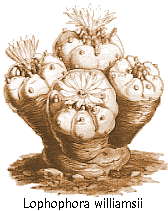 ====================
Recollections of the Peyote Road
George Morgan
From Psychedelic Reflections, edited by Lester Grinspoon and James B. Bakalar,
Harvard Medical School. ©Human Sciences Press, 1983
---

My thoughts about Peyote are closely interwoven with the religious context of the Native American Church, the Peyote religion of the American Indian. In my experiences with this sacred plant, Indian Peyotists have been my companions. I am grateful to them for their patience and understanding, and their willingness to adopt me into their church. Peyote is considered a holy medicine among members of the church; and it is used with the utmost respect. The teachings of Peyote go beyond the confines of the tipi; my experiences sitting by the sacred fireplace have helped guide my daily life. Peyote ceremonies have also allowed me the opportunity of being closely associated with the Sioux, who are quite remote psychically and geographically from the mainstream of American life—far more remote than many of us realize.
Most Sioux Peyotists are full-bloods and traditionalists; their great-grandfathers were buffalo hunters and warriors. They live in the spacious beauty of a pine and prairie landscape, but by our economic standards they are distressingly poor. As late as the early 1970s many Indians in the Pine Ridge country were still using kerosene lamps. They have retained their native language, Lakota, and their knowledge of English is limited. Lakota is spoken throughout the Peyote ceremony. At ceremonies someone has often interpreted in English for me, but through the years I have come to understand much of what is said; and much requires no words.
I attended my first Peyote ceremony in 1964. That eventful night in a tipi at Wounded Knee was the first of many meetings and the beginning of my acculturation to the Indian way of life. Although I was thirty-one in 1964, I was a child in the Peyote religion. The Sioux have patiently watched me grow up in the Peyote way, and in their eyes I am now a teenager of sixteen. They liken their religion to a school; one peyotist has said: "You learn in here just like at school; it is graded and becomes easier the farther along you go. " In reference to my learning, the same man said: "It is good that you are starting now; you can always learn more from Peyote, but you will never learn it all."
Peyotists at Pine Ridge constitute less than 2 percent of the population (about 15,000 in 1980). The church membership is growing from within because of an increase of children in Peyote families, but the number of new members from outside these families is negligible. The Peyote religion at Pine Ridge is like a large family: almost everyone knows everyone else. Other reservations have a much higher percentage of Peyotists: among the Navajo of the Southwest, about 50 percent. Despite the Sioux Peyotists' small numbers, they are famous among Peyotists of other tribes, especially for their songs. Since the Peyote religion is pan-Indian, members often attend meetings with other tribes. At one meeting I attended, seven tribes were represented. Thus for an Indian visiting the reservation of a tribe not his own, the Native American Church is a home away from home.
Although the Peyote religion is definitely Indian, it includes some vital Christian elements. Christianity has influenced the pre-Columbian Peyote religion since the early sixteenth century, when Spanish friars came to the New World. Peyotists know and accept the Ten Commandments and the teachings of Jesus; at Peyote meetings participants often recite the Lord's Prayer, sometimes in English. Considerable time during ceremonies is devoted to prayers. Indians are an intensely religious people; their prayers to God and Jesus come to them easily and naturally. My prayers are still a little awkward, although as a member of the Native American Church I have had ample practice.
Next to the prayers, Peyote songs are the most important part of the ceremony. As each person receives the prayer staff and musical gourd (rattle), he holds the staff in his left hand and shakes the gourd with his right. The drummer and other participants often sing along. These chants, sung with compassion, create a marvelous world of sound and meaning for Peyotists like myself, engendering visions, hope, and peace. Some peyote songs are prayer chants which praise the name of Jesus. Peyote is often referred to as a sacrament; it is considered a mediator between God-Jesus and Man.
At Pine Ridge there are two contrasting ceremonial rituals and organizations of the Native American Church: the traditional Half-moon ritual and a more Christian version known as the Cross-fire. The Half-moon ritual is much older and commonly occurs inter-tribally in the United States; the Cross-fire occurs chiefly among the Sioux of South Dakota and the Winnebago of Nebraska and Wisconsin. The leaders (roadmen) of the Cross-fire group are bona fide ordained clergy who have been appointed by the High Priest of the organization in the State of South Dakota. As ordained clergy they are qualified to perform baptisms and marriages.
In the Half-moon ceremony each participant rolls a prayer cigarette, which is a surrogate for the peace pipe; sometimes the Bull Durham tobacco is rolled in a corn shuck. In the Cross- fire ritual prayer cigarettes are not used; the Bible, which is set next to the Peyote sacrament and holy altar, replaces the smoke. At certain times during the Cross-fire ceremony the roadman reads aloud from the Bible and interprets readings to the congregation .
Another difference between the two fireplaces is that, at Half-moon meetings, each participant is allowed to help himself to the sacrament (generally four spoons of Peyote) each time it is passed clockwise around the tipi; at Cross-fire meetings a man stands in front of the participants and hands each of them four spoons at least the first time the sacrament is sent around. The roadman decides how many times Peyote should be passed around, usually three or four. It is sometimes used in powdered form, but more often as a gravy; an infusion of Peyote tea is also passed. Although individual members usually attend meetings (ceremonies) with their own group, they also freely attend the other group's meetings. Each group has its own cemetery. I like both rituals, but I have been raised in the Half-moon and prefer it.
The Native American Church is decidedly nationalistic. Military veterans are granted special honor. Since I am a veteran, I have the privilege of folding the flag at ceremonies. The official colors of the church are red, white, and blue, colors which also appear in the beadwork of religious paraphernalia; veterans have beadwork designs of the national flag. At almost all locations where meetings take place there is a flagpole; the flag is raised on Veterans Day and Memorial Day and for the funeral or memorial of a member who was a veteran. The nationalism of the church is partly attributable to its pan-Indian organization; it also reflects the fact that the government recognizes the Peyote religion and allows the Indians to practice it freely. But the military character of the Native American Church may also be a continuation of the old warrior society, which retains high prestige among the Indians.
Women were formerly excluded from the ceremony, except for Peyote Woman, the roadman's wife. She came into the tipi in the morning, bringing morning food and water over which she prayed as a symbol of Mother Earth. It was not until the 1950s that women in general started attending Peyote ceremonies at Pine Ridge. One reason for their original exclusion was the Indian taboo against allowing women near any medicine during their menses. It is still considered dangerous to the health and life of anyone taking Indian medicine, such as Peyote, to be in proximity to a woman who is menstruating or has just given birth; thus, women during these times respectfully stay away from meetings. Recently, a woman who had just had a child ignored warnings and entered a Peyote meeting; all the men at the meeting became violently ill, and many of them vomited.
Aside from these two prohibitions, Sioux women today not only freely attend meetings, but sit next to their spouses and sometimes even sing Peyote songs. Indian women of other tribes also attend meetings, but they tend to sit together, and they do not sing. Sioux women are liberated women compared with their sisters of other tribes. Yet the Peyote ceremony still remains a man's world; the political organization and the ceremonial are run by men, and men predominate in numbers. Children accompany their parents to Peyote ceremonies; the family worship is healthy. Children begin to take medicine ritually when they become teenagers.
There is no single reason that a person is drawn to the Peyote religion. Some take refuge in the church as a last resort to cure a sickness after the white man's medicine fails. Some start attending meetings out of sheer curiosity, and some want to escape the monotony of reservation life. Many come because they have heard that the Native American Church is a place where one can talk to God and feel His presence. They have heard that Peyote can change minds, habits, and lives for the better, or that Peyote can bring happiness to man in this life. The actions, words, and morals of Peyotists themselves have been positive living examples to the Indian people. Another attraction is the close fellowship of Peyote meetings.
Members of the Native American Church do not proselytize, nor do they criticize other churches or beliefs; they prefer to live unnoticed. But some Indians object to Peyote, the ceremony, and the people connected with it. A few of these critics are traditionalists who follow the old peace pipe religion of their grandfathers and see the Peyote religion as a foreign intrusion from Mexico. The major diffusion center of the Peyote religion was Oklahoma, and tribes such as the Kiowa and Comanche were its major disseminators. It did not arrive at Pine Ridge until some time between 1904 and 1912.
Some Sioux Peyotists participate in ancestral rituals with the peace pipe, such as the vision quest and sun dance, but I know of no traditional medicine man who has become a Peyotist. Indian alcoholics are especially fearful and critical of Peyote. They sneeringly refer to Peyotists as "cactus eaters. " One alcoholic told me, in a malignant tone of voice, that Peyote was "snake juice." One reason alcoholics tend to fear Peyote is their knowledge that Peyote conquers the alcohol in a person's body and pushes that poison out of his system; he would thus suffer physically and mentally through an all-night ceremony. But the alcoholic generally refuses to admit that his recovery to sobriety and awareness may be the beginning of a new life .
The Peyote road is the path chosen by members of the church. In the imagery of some Peyotists, two roads diverge at a junction. The profane road, paved and wide, with its worldly passions and temptations, is considered to be an unholy road which leads to trouble. The alternative is the Peyote road, a narrow unpaved path surrounded by a wilderness of pristine beauty. All Peyotists travel this way, but each must journey alone, for it is the road of one's own life and wisdom. In the Christian sense, it is the road to salvation. Ethically, it is a path of sobriety (a major step for most Indians), industry, care of the family, and brotherly love. Its symbol is a narrow groove on top of a crescent-shaped earthen altar that encircles the west end of the fireplace. Rather than a straight and narrow path, it is a curved path all the way, but the curve on the crescent altar is constant, never-varying, and so in a sense straight. The road has not been easy for me, nor was it meant to be. Peyotists say that up to the mid-mark of human life the Peyote road is uphill. This is indicated by the earthen altar, which slopes up to the center of the crescent, where the Peyote chief which is a specially shaped Peyote plant placed on the altar by the leader of the ceremony is set. To reach the downhill side of the Peyote chief one has to go through (accept) Peyote, for it is considered impossible to go around or over the sacred plant placed on top of the altar. The downhill road symbolizes the latter half of one's life, the easier half.
Those early years of my uphill journey were difficult because of my preoccupation with death. This morbid obsession began when I attended my third Peyote meeting. Several people present were ill, and I feared the spread of disease by the communal sharing of the spoon to eat Peyote and the cup to drink Peyote tea. Two voices within me began to talk about my death, one stressing its reality and the other constantly agreeing; the voice-exchange continued until my awareness of death became intense. I had been asleep to my death for thirty-one years; it now became an intimate reality. At a meeting that I attended, a wise elderly Peyotist said, "You can see yourself in this fireplace; you can see what kind of man you are. If you accept what you see, you will be all right and stay in this religion; if you don't accept what you see, you will never come back. " More than one man attending a meeting has thought himself attending his own funeral; he believed that he saw his own body being brought into the tipi instead of the morning food—the church became for him a funeral parlor. After such an experience, he may or may not want to return to the Peyote religion. That night I arrived at the junction and chose the Peyote road, which included the risk of sickness and the anguish of mental torment. Yet, in the sense that "many are called, but few are chosen," Peyotists say that "Peyote chooses you, you don't choose it."
After that traumatic night I was aware of death every day for a period of about 3 years. It was not an absorbing fixation, but it was a daily reminder, my Dark Night of the Soul. I was often awakened to the image of a black whiplash across my back and the words resounding in my ears: "You are some day going to die." At a Peyote meeting, when I told the members of my concern about death, one of the leaders stood up and said that I was off to a good beginning in the Peyote way. During a meeting 3 years later I simply became aware that it was useless worrying about the inevitable. To be uneasy is the original derivation of the word disease; my anxiety and worry (uncertainty) about my certain death was a disease. Perhaps there is in each of us a level where the knowledge of our own death is so strange that it comes as a shock.
The ceremonies not only exposed me to the unknown, but allowed me an insight into Sioux psychology and culture, which is so different from ours in many ways. Thanks to Peyote I have become acquainted with the genius of the Sioux mind; it has been a powerful catalyst in overcoming ethnocentric barriers. Peyote magnified individual personalities and cultural differences in a complementary manner, and showed what we all had in common as human beings. During their meetings, which lasted from 12 to 15 hours, I respectfully followed the ceremonial rules of conduct—the Indian way. The ingestion of Peyote helped us to endure the all- night ceremony and the socializing during the following day. Alone and decidedly outnumbered, I absorbed their culture under the aegis and power of Peyote. Although each meeting was a culture-shock to my nervous system, my acculturation was gradual rather than abrupt; it was a slow blood-transfusion of cultural transformation.
After attending several Peyote ceremonies I started noticing a change in my mannerisms. Especially noticeable was a change in my body movements and gestures; my way of speaking and voice quality also altered. My sense of humor and values became more recognizable among the Sioux than among people of my own culture. Sometimes I found myself willingly imitating the Sioux men I most admired; at other times I passively observed those same strong personalities controlling my actions and mannerisms. More than once during a ceremony I suddenly felt as though I had left my body, passing into a person sitting across from me and looking through his eyes at me. I have often wondered whether that person simultaneously had the same experience, but Peyotists rarely comment on their visions and appear uninterested when I tell them of mine. They generally refrain from telling anyone what they have learned, especially their deepest mystical experiences; they say that Peyote teaches each person differently.
As the Peyote religion and the Sioux became more important in my life, I began feeling more distant from my own culture, which appeared increasingly shallow, meaningless, aggressively acquisitive, and boastfully noisy. I was more comfortable with the Indians, who are a quiet, refined, and soft-spoken people; their slower pace of life was more restful to my mind, and their subtle sense of humor, especially Peyote humor, was a joy. Indians love to joke even when the joke is on them, but there is no scorn in their joking. Peyote humor is partly a play on words, especially English words which are relatively new to the Indian; they enjoy the fact that many different English words have the same sound, and that different-sounding words have the same meaning.
At the close of a Peyote ceremony, an elderly Indian was explaining the difference between the southern and northern Arapahoe language. He used English words for his example: "Where the southern Arapahoe would say 'match,' the northern Arapahoe would say. . . ?" He couldn't think of the cognate word, so a member looked up and said "lighter." Such humor and laughter is encouraged after the ordeal of an all-night ceremony. Often their humorous stories have a sober message; an example is the tale of the "monkey in the fireplace," which warns against treating the ceremony as play. The story is as follows: "No monkey business allowed in this fireplace, but everything is in this fireplace, so the monkey must be in there too. This engineer on the railroad had a monkey who watched everything he did. The engineer stopped the train and went in the depot to get a cup of coffee. When he heard the toot-toot outside, he ran out and saw the monkey taking this train down the track. Hey, this monkey was really having fun. He was driving the train just like a man. He was really driving that train fast. He missed the curve and the train went off the track, but the monkey, he jumped out of the window and grabbed hold of a tree and was saved. He watched the train go into the ditch."
We both laughed; then he became serious and said: "But all the people and children on the train were killed. That's the way the monkey is: if the man don't watch close, he will miss the curve; the monkey, he's a monkey." Then this Indian Peyotist slowly pointed to the fireplace and said: "That monkey will kill you if you don't watch him; no monkey business allowed in this fireplace." Symbolically, this story indicates that if you are careless on the curve of the Peyote road, you will fall from the altar and burn up in the fireplace.
Through Peyote I have acquired many Indian friends and adopted relatives. In particular, I became quite close to my adopted brother, Silas, an Omaha-Ponca Indian who lived among the Sioux for many years. He was a leader of the Peyote ceremony, an official of the church, and a man of great charm and spiritual power. He was about 20 years older than I, a wiser brother. Together, we spent much time visiting and attending Peyote meetings. He had been raised in the Peyote tradition, and he taught me much about that tradition and about the good life. For instance, he taught me the need for humility before entering the tipi to pray. To attend a meeting with a know-it-all attitude, that of a "big shot," will usually cause suffering throughout the night. He said: "Over there are some tall weeds that are now bent by the cold. That's what Peyote can do to a man who thinks he knows everything. Peyote will bend him down and turn him inside out. " I have seen that happen since and I know that his analogy was accurate.
Because of his vast experience and clear, quick mind, he was always several steps ahead of me. I shall never forget that when I told him I thought Peyote was good, his answer was: "You say that Peyote is good; what's good about it?" No one has satisfactorily answered his question. Once when Silas had a ruptured hernia, a few Peyote boys helped him through to health. They prayed, drummed, and sang through the night, and they spoon-fed Silas about 150 Peyote. He was well by morning; the ambulance returned to the hospital without him.
Silas told me of his vision when he ate that large amount of Peyote: "Brother George, I had so much Peyote in me that when I raised up from the bed the Peyote would come up my throat to my mouth. While the boys were drumming and singing I suddenly got out of bed opened the door and went outside; a short distance from the house was a large hill. I walked to the hill and saw a shiny new ladder going all the way to the top. I climbed the ladder to the top of the hill. I looked around, everything up there was so beautiful. The air was clean and fresh; there were all kinds of pretty colored flowers. When I looked back to the ladder it was old and broken; many rungs were missing. Since I had no way of getting back down, I decided to enjoy where I was; later I looked back at the ladder and it was once again a shiny new ladder. I finally climbed down the ladder and walked back to the house. The people in the house looked very sad. I walked up to the bed and looked down at the man lying on the bed; he had his eyes closed and looked rested. I saw that the man on the bed was myself. I then lay down to rest. When I awoke my sickness was gone. The large hill was a hill of Peyote, all those Peyote represented my sins. The top of the hill was paradise." Although Silas often ate large amounts of Peyote, he told me that if a person is in the right spirit "just a taste of Peyote on the tip of your tongue is enough. "
At meetings, Silas was a strict disciplinarian. At a house meeting in winter I fell unconscious from the lack of oxygen. The one-room log house was sealed airtight; it was crowded and stuffy. There was no air circulation; the fireman had brought in a large pan filled with live coals which further heated an already hot room. Silas was sitting next to me. When I fell unconscious, I dropped my pheasant-feathered fan on the floor. I was revived about 10 minutes later. The first thing Silas said to me was, "Pick up your fan!" A few minutes later I told Silas that I believed the reason for my passing out was that the live coals were eating up the oxygen. He agreed, but nothing was done about it. Under the influence of Peyote, the loss of consciousness was especially meaningful. I felt as though I had died; the darkness of unconsciousness came before I realized what was about to happen. I wondered whether death would be like that, quicker than conscious thought. A tall, quiet Arapahoe man revived me; I saw him clearly before I could hear any sound, and it was about a minute before I could hear. I went outside in the bitter cold to get some fresh air. The Arapahoe man walked up to me and said: "You are doing all right in this Peyote way, but don't be in a hurry; take your time. " Several days later, a leader in the Peyote religion who had heard about my fainting said: "I heard that Peyote finally caught up with you."
I write of Silas in the past tense because he died in 1973. Visiting his blood relations, the Omahas of eastern Nebraska, is the closest I can come to being with him. In their eyes I am a welcomed relative who has come home. Whenever I attend a Peyote meeting, especially among his own people, he is close to me. Although all tribes have essentially the same Peyote ritual, there are variations which are highly important in the minds of the Indians. Each tribe has its language and culture; each has its own style; each has its own genius. At my first birthday meeting among the Omahas, I said that since I was familiar with the Sioux way, they could continue singing while I prayed with a prayer cigarette during the main smoke. The Omahas looked startled; the air seemed electrified by the cultural transgression. After a silence which seemed to last an eternity, Henry, the leader and my adopted nephew through Silas, said: "Uncle George, we will pick up these instruments (musical instruments) again when you are finished with your prayer; that's the way we do it here, so that's the way it is going to be, Uncle George."
Although I continued to live and work within my own culture, my heart, spirit, and mind resided with the Peyote religion and the Indians. Thus, I lived in two worlds—physically among my own people, emotionally among the Indians. Living within an hour's drive from the reservation allowed me easy access to the source of my emotional life. Because of the increasing ease and frequency with which I went back and forth, my image of the reservation's entrance and exit was that of a swinging door. As I felt an increasing need to be on the reservation, I began attending more meetings and visiting more often. All of us Peyotists needed emotional support as an integral part of group solidarity and the fellowship of a community of seekers. The social group using Peyote became as important to me as the plant and its powers. Whatever their age, Peyotists are endearingly called " Peyote boys . " They are a brotherhood of seekers who are youthful in spirit and attitudes, in their curiosity and willingness to learn.
As my cultural metamorphosis became less detectable to myself, it became more obvious among friends and relatives of my own culture. Yet I could never become fully Indian. A Peyotist made this clear to me by saying: "This way helps us to become more Indian and it helps you to be more like George Morgan. " At first Peyote enabled me to see the Indians as I wanted to see them: in an idealizing light. But eventually I learned from Peyote that their culture had its own snags and contradictions, and my view became more balanced. In time, Peyote aided me in understanding and respecting my own culture. For instance, Indians have a sharing culture; we do not. Peyote helped me to understand the advantages and pitfalls of sharing. Of course, any discerning mind might in time come to the same understandings; one does become wiser with age. With Peyote too it takes time to learn about life and cultural differences; wisdom cannot be hurried .
By reconciling the opposed cultural values in my mind, I diminished their hypnotic influence and escaped the clutching grip of ethnicity. An identity crisis ended: the tenuous swinging door vanished; I stepped out of both cultures and took a deep breath of fresh air in a cultural void. I could now enjoy both cultures, and I could move freely and safely through them. To arrive at this point along the Peyote road took me years of relentless effort .
The Peyote religion also advanced my formal education. One morning as I sat by the sacred fireplace I felt an urgent desire to journey to the land where Peyote grows and study the plant's environment and trade channels. That impulse was prompted by substantial price increases for the plant and occasional supply shortages which troubled the Indians. My university training in geography and plant ecology had prepared me to study the biogeography and economic history of Peyote. As there was a gap in the literature, I decided that this study would become my doctoral dissertation, and I felt that the knowledge gained from it would help Peyotists to secure a dependable supply in the future. I spent several months over a period of 2 years in the Texas brush country studying Peyote. I learned about the plant's life cycle, habitat, growth rates, and geographic range past and present. I also studied the history of Peyote trade between the Peyoteros (a group of Spanish-American Peyote traders) and the Indians.
I sincerely believe that Peyote guided me in this study, for I met no obstacles in seeking information about a delicate and somewhat secretive subject. I also believe that Peyote protected me from harm in the rattlesnake-infested thorn brushes. The details of my study are too complicated to relate here, but the thesis is of value in understanding the present problems of Peyote supply and how they arose. If Indians make the effort, as they surely will, there should be a dependable supply for their needs in the future. In a strange way I feel as if Peyote selected me to do that study, for other Peyotists with artistic talent have been inspired through Peyote to paint religious paintings connected with the ceremony; others have done beautiful beadwork.
I would not casually suggest to anyone that he attend a Peyote ceremony. It is difficult to sit through an all-night ceremony. And Peyote is not easy to swallow: it is extremely bitter, even to experienced Peyotists, and occasionally nauseating, especially for beginners. A person of sincere intent would be welcome: it is a church. He would find hospitality: Peyotists are courteous and respectful. But it is well to remember that Peyote is not a plaything; Peyotists say that "if you play around with Peyote, it will turn around and start playing with you. " The Native American Church is not for the curiosity seeker: it is a serious religion.
The Peyote road has shown me many wonders, and I believe it is the same for other Peyotists. I shall continue to follow that adventurous path, that sublime way of life.

==================================



Apparent Safety of Peyote
Robert Bergman
American Journal of Psychiatry, 1971
---

Several states have passed laws against possession and use of peyote. However, very little evidence has been reported on this subject...My familiarity with the Native American Church has resulted from the day-to-day work of the mental health program on the Navajo area of the Indian Health Service working with the 125,000 Navajo Indians, the largest tribe in the United States...We provide consultation to many community organizations, including the Native American Church. As a result, we seem to have good success in case finding, and in general there is little reluctance to refer cases to us. Nevertheless, we have seen almost no acute or chronic emotional disturbance arising from peyote use.
For a period of four years we have followed up every report of psychotic or other psychiatric episodes said to have arisen from peyote use. There have been about 40 to 50 such reports, most of which were hearsay that could never be traced to a particular case. Some have been based on a physician's belief that Navajo people use peyote and that if a particular person became disturbed it must have been for this reason. There has been one relatively clear-cut case of acute psychosis and four cases that are difficult to interpret. (The "acute psychosis" occurred when a Navajo man attended a peyote meeting after drinking alcohol-Ed.) Assuming that all five of our cases represent true reactions to peyote and that we hear about half of the cases occurring, the resulting probably over-estimated rate would be approximately one bad reaction per 70,000 ingestions...This rate is much lower than others that have been reported for the use of hallucinogenic agents.
We have seen many patients come through difficult crises with the help of this religion. The Peyotists themselves are proud in particular of the help the church has been to Indian people who have drinking problems. In fact, Levy and Kunitz (1970) report a greater success rate for the Peyotists than for any other agency working with alcoholics in one part of the Navajo reservation.
—Dr. Robert Bergman, Chief U.S. Public Health Service Navajo Reservation, Arizona
Discussion: I concur in all that Dr. Robert Bergman has said. I see the legal persecution that keeps cropping up as typical of the reactionary regression of the day...Peyote is not harmful to these people; it is beneficial, comforting, inspiring, and appears to be spiritually nourishing. It is a better antidote to alcohol than anything the missionaries, the white man, the American Medical Association, and the public health services have come up with. It is understandable that these organizations should be a bit envious of the success of this...natural native remedy.
—Dr. Karl A. Menninger Topeka, Kansas
AMERICAN JOURNAL OF PSYCHIATRY: Bergman, 1971.
=============================
Antibiotic Activity of an Extract Of Peyote
David L. Walkington
Economic Botany, 1960
---
The use of peyote in religious rites by many Indian tribes is common knowledge. In addition, curative properties for such varied ailments as toothache, pain in childbirth, fever, breast pain, skin diseases, rheumatism, diabetes, colds, and blindness, among other things, have been claimed for this plant by the same peoples...The U.S. DISPENSATORY lists peyote under the name

Anhalonium

and indicates its use to some extent in various forms for neurasthenia and hysteria and also in cases of asthma...

Extracts of whole peyote plants were prepared in various solvents and screened for antimicrobial activity...and showed positive microbial inhibition...the principle antibiotic substance was given the name

Peyocactin.

Swiss-Webster white mice were used for preliminary animal toxicity tests and protection studies to indicate the degree of inhibitory action of peocactin against fatal staphylococcal infection. In every case the protected animals survived while those in the control group succumbed within 60 hours after infection with

S. aureus...

Summary: A water-soluble crystalline substance separated from an ethanol extract of

Lophophora williamsii...

exhibited antibiotic activity against a wide spectrum of bacteria and a species of the imperfect fungi...Of particular interest was its inhibitory action against 18 strains of penicillin-resistant

Staphylococcus aureus.

—David L. Walkington
Department of Bacteriology
University of Arizona




==========================


Through The Lens Of Perception
Hal Zena Bennett
Shaman's Drum, A Journal Of Experiential Shamanism: Fall, 1987
---



"For now we see through a glass, darkly, but then face to face:
now I know in part; but then shall I know even as also I am known."
—I Corinthians


Nearly thirty years ago, I spent a summer in Mexico, much of it in a small village two hours by bus up the coast from Acapulco. As far as I know, the village had no name but was referred to as "the turnaround" (in Spanish, of course) because it was here that the third-class bus turned around and headed back over the mountain to Acapulco. I had gone there on the recommendation of a friend to escape the modern hotels and the tourist crowd. But I was not entirely prepared for the primitive conditions I met, or for a certain adventure that came to me. Instead of a modern hotel room, I found myself sleeping on a cot, covered only by a light sheet, just one of seven other rugged souls who had chosen this thatched roof dormitory over the more elegant accommodations available two hours south.
We always arose at sunrise, helped fold the cots, then stashed them away in one corner of the room. That done, we sat around and sipped coffee from crude, terra-cotta cups as we waited for breakfast to be served by the proprietor and his wife. Eating and sleeping under these conditions, created a bond between strangers, in spite of the language barriers. I knew enough Spanish to ask for basic life essentials, and the others, mostly Mexican students from the City, knew enough English to make small-talk.
One afternoon I met a man on the beach who said he was a tourist guide. He offered to take me up to the top of the mountain—I do not think I ever heard the name of it—where he promised to show me the most spectacular view imaginable. The fee for this jaunt was reasonable, and having nothing better to do I agreed to go with him.
The man's name was "Sen", and he was a wiry but strong looking little man who appeared to be in his early sixties. He wore only faded khaki pants and a red T-shirt with a flying hawk emblazoned across the chest. Underneath the bird, written in Spanish, was the name of a local beer. Sen was dark-skinned and had long black hair that reached nearly to his shoulders. His face had sharp Indian features, and when he smiled he revealed two front teeth capped in gold. Just after noon, Sen packed a small knapsack with staples that he purchased from a groceria a short ways from our camp. Then we set out on foot in the most casual way imaginable. He pointed to the mountain peak where we were going. It looked to me to be miles and miles away. He assured me, however, that it was a much shorter distance than it looked, and I was not to worry.
We traveled on foot for most of the afternoon, taking what he called "El Sombre"—the shaded trail on the eastern slopes of the mountain, which protected us from the torturous rays of the afternoon sun. The trail was difficult, very steep at times, and not well maintained. I failed to keep track of the time, but we must have traveled for at least four hours before we stopped.
Finally Sen announced that we had arrived at our destination, and he led me to the mouth of a large cave, where we sat down to rest. I would guess that the cave was approximately two thousand feet above the sea. Less than a mile to the west, and seemingly straight down, was the ocean.
As Sen had promised me, it was a most spectacular view. The steep walls of the mountain amplified the sounds of the waves far below, giving the illusion that the sea might have been only a stone's throw away. From this aerial view, somewhat magnified by a peculiar atmospheric distortion, one could watch the waves rolling gently in upon the beautiful white beach, appearing as they might through binoculars.
I was aware of Sen squatting down on the ledge a few feet off to my left and a foot or two behind me. I turned and watched as he took a small package from his day-pack. He had something wrapped up in newspapers, which he set down in front of him.
He carefully unfolded the papers, smoothing the edges out over the ground. At the center of the square of newspaper were six objects that looked like green cactus apples with flattened tops. Each one had a feathery white tuft growing out of its top.
With a small, razor-sharp, stag handled jackknife, Sen removed the tufts and sliced the cactus apples pie-like into narrow wedges. "What is it?" I asked, in Spanish.
"It is medicine for fixing your eyes," Sen said. He looked up and grinned mischievously, making a peculiar fanning gesture with his hands around the area of his eyes.
"Peyote," I said. He nodded, inviting me to share the peyote with him.
I would have been reluctant except that back in the States, I had taken peyote three times. Each time had been under controlled conditions, and in the name of medical research. We had taken our peyote as a dried powder inside gelatin capsules. I had only seen pictures of it in its raw form.
I had experienced a pleasant, mildly altered state of consciousness in these experiments. So, naturally, I had no particular anxiety about taking the peyote with my guide.
Sen showed me how to eat the narrow slices from the buttons. He tipped back his head, opened his mouth wide, and placed a single slice far back on his tongue. Then he rocked his head forward and swallowed. On my first try, I failed to get the peyote far enough back on my tongue, and the foul, earthy taste made me wretch.
Sen repeated his instructions, and this time I got it right. Together we consumed five ripe buttons in about a half an hour. Then we sat quietly, breathing slowly and deeply in a way that Sen said he had been taught to do. I recall feeling nauseous at first, but had no trouble with it when I followed Sen's breathing instructions.
It was late evening. The sun was setting, and the sky had turned a deep scarlet. At the horizon, sea and sky blended as one in a symphony of reds and yellows.
Spread out between the ocean and the cave where we sat, I saw a strip of tropical jungle. Here was a world of lush greens, ferns and palms in varying tone, now wearing an aura of pink created by the fading sun.
Blowing in from the ocean, the evening air was cool, heavy with the earthy fragrance of the jungle, of naturally composting vegetation and moist soil, and of flowers which I could not see.
"It is like I told you it would be," Sen said. "Do you agree?"
I nodded, agreeing that indeed it was very beautiful.
Minutes passed; then Sen announced, "Darkness will be coming soon."
It took a moment for these words to sink in. And then the horror of it struck me. We had just spent the entire afternoon hiking up an extremely precipitous trail, along which we encountered many hazards. Several times I had clung to the rock face of the mountain to traverse a section of the trail washed out by storms, risking a fall of several hundred feet. Another time a large snake blocked the trail. Sen chased it off with a stick, all the while assuring me that the snake was not poisonous, though its bite could be harmful.
The realization that I might have to go down this same trail in the darkness startled me. How could I have been so stupid! Why had it not occurred to me, until now, that it would be dark when we returned!
I was furious with Sen. What sort of person would guide me to such a place, heedless of the threat to my well-being. Surely he realized it would be dark before we returned.
I then became aware of a deep, groaning roar coming from deep within the cave behind me, and I leapt to my feet with visions of being attacked at any moment by a wild animal whose peace we had disturbed. I began swearing and jumping around, unable to decide which way to turn. I knew there was a washout less than a hundred yards down the trail, and it was already too dark to safely cross it.
Sen continued to sit at the mouth of the cave, completely unperturbed. In fact, he was wearing a toothy grin that did nothing for my sense of security.
Again I heard the groaning roar within the cave. "What the hell is that?" I cried. "Don't you think we should get out of here?"
"Is it such a bad sound?" Sen asked. "I find it rather pleasant."
"Pleasant!" I said, still searching for an escape. "How can you sit there so calmly? Do you know what it is?"
"It is a sound."
"Of what?"
Sen shrugged. "Who knows?"
At that moment, I sensed that he knew something which I didn't. He'd been here before. Or at least he claimed that he had been. He obviously knew that the sound wasn't a threat to our safety. Or did he? I knew nothing about the man, other than what I saw. He had told me nothing about himself. Where had he come from? For all I knew he cold be a complete fool, or a madman—some sort of murderer who lured people out into the wilds where he slaughtered them. After all, who would ever find me out here? Who even knew—or for that matter cared—where I'd gone?
"Sit down," he said sternly, pointing to the empty boulder at the mouth of the cave where moments before I had been sitting.
"Not on your life," I said.
He looked at me incredulously. "No? Then, where are you going to go?"
"I'm leaving," I said. "I'll go back down the trail."
"Surely you're joking."
"I'm not joking at all," I said. "I've had plenty of trail experience back in California.
"Suit yourself," he said. "But you'll miss the best part of the sunset. Look." He pointed over the horizon.
Against my better judgment I turned to find out what he thought could possibly be so important. At the edge of the horizon the sky was ablaze with a bright pattern of red and yellow light, twisting slowly into a shape that resembled a spiral galaxy. My breath was literally taken away by the beauty of it, and for a moment I completely forgot my plight. "My god, what is it?" I asked.
"It is what I promised you," Sen said. "I have kept my word."
In spite of myself I sat down and stared out over the horizon. For an hour or more I watched as the spiraling colors played at the end of the ocean. The galaxy of colors was huge, awesome in its proportions, and seemed to have a life of its own, twisting and turning almost playfully, as though it had an intelligence and was performing a dance with the Earth. Then suddenly it was gone, and we were plunged into darkness.
The groaning roar rose from the cave behind us, and this time I was able to study it, to listen with a calmer mind. Rather than like an animal, it sounded this time like two gigantic boulders being ground slowly together, emitting a voice from somewhere deep down in the earth beneath our feet. I had visions of two continental plates scraping against one another, their sound amplified and made more resonant by a long tunnel in the cave.
"Listen," Sen said. "Listen."
I did, and the sound varied, not like a voice so much as like music made by a gigantic instrument whose shape and mechanics I could barely imagine.
"Didn't I tell you?" Sen said excitedly. "Didn't I tell you I would show you a wonderful place?"
He leaned down and picked up his knapsack. Reaching inside, he produced a round object which he handed to me. It was too dark to see what it was, but from the size and texture I guessed it was an orange.
"Supper," Sen said, announcing this in a completely matter-of-fact tone.
Was he kidding? Was this really his idea of an adequate supper after our arduous climb to this place? Without comment, I sullenly peeled and sectioned the orange, determining that I would eat it slowly, savoring every bite.
I was aware of Sen rolling his orange between his palms, the peeling still in place. He was doing this in a very studied, very methodical way, and I grew curious. As I watched him, I also became aware that the mountain was growing brighter and brighter, almost as though a huge spotlight was being pointed at us. I looked up and saw the edge of a full moon just emerging from behind the top of the mountain, another five hundred feet above us. This was providing us with enough light to safely make our way down the path, if that is what we chose to do.
I looked at Sen, meaning to suggest this to him. But now he was ripping into the orange like a starving ape, tearing off great chunks and burying his face in his hands as he sucked and chewed at the fruit. I was disgusted by his behavior, and wondered if he always ate like this. He finished, reached into his knapsack for a bandanna, and wiped off his face and hands, licking his fingers now and then to get rid of the sticky juice. This done, he lay down, arranged the knapsack under his head, and appeared for all the world to be getting ready to take a nap.
"Shouldn't we be getting back while we still have some light from the moon?" I asked.
"What's the hurry? Have you got an appointment with the doctor or something?" To this he chuckled stupidly, like a man unaware of the fact that no one else thought his joke funny.
"When are we going back?"
"Why don't you just enjoy yourself," he said. "Take it easy."
I don't know whether I was more angry than anxious, but I could see that there was no sense in trying to budge him. He had his own plans for us, and he was obviously not going to let me in on them. I was completely at his mercy.
I leaned back and started picking at the orange that I had sectioned so carefully. I picked up the first section and was about to put it in my mouth when I felt something moving across my hand. I looked down at the orange section. A tiny lizard, about the length of my little finger, clung to the fruit. I grabbed it by the tail and flung it out into space, disgusted by the thought that had I not felt it moving in time, I would have bitten into H. and might at this very moment be spitting out its bleeding carcass.
I was careful after that, brushing off each section of fruit and inspecting it in the moonlight before popping it into my mouth. By the time I had finished eating, Sen was sound asleep. His rasping snores indicated to me that it would be no use trying to awaken him, at least not for an hour or more.
I felt restless and uneasy. From far below us I could hear waves lapping against the beach, and this was soothing. Then, every few minutes, the cave made that peculiar groaning sound, a sound to which I had now become accustomed. To pass the time, I decided that I would try to plot how long were the silences between the cave's groans, but after an hour or more I could determine no apparent pattern, and eventually gave it up.
The moonlight slowly faded, and again I became anxious as darkness closed in around me. Now, every sound seemed amplified, and I became aware of live things all around me. High-pitched whistles from inside the cave suggested the presence of bats. Rustling in the trees suggested night birds, or perhaps nocturnal animals. None of these things particularly disturbed me, though they didn't exactly put me at ease, either. I had spent many nights under the stars back in the States, hiking in the Sierras. But I have to admit that these sounds were not familiar to me, and my inability to identify them put my nerves on edge.
The sky was brilliant with stars, the Milky Way like a great sea of light. Several times I saw meteorites trailing across the sky. In spite of my nervousness, I caught myself dozing, jerking to attention when by body relaxed, and I almost lost the balance of my sitting position. At last I gave into H and lay down, staring up at the sky until I fell asleep.
The next thing I knew there was a shriek, and I sat bolt upright, not knowing what to expect. The shriek shattered the stillness once more and I looked up, having determined that the sound had come from above and to my left. As I searched the darkness, the shriek came again and a huge bird, with a wingspan of at least six feet, swooped down, coming right for me. I leapt behind Sen's rock—where he continued to sleep soundly—just as the great bird shot by.
As the bird passed, less than a foot from my face, I saw its talons extended as though for a kill. But that was not the worst of it. Just a few feet past me, it stopped in mid-flight, seemed to gather itself into a ball, and suddenly changed directions, facing me once again as thought preparing for another attack. I shielded my face with both arms, fully expecting to feel its sharp talons dig into me at any moment. But then it stopped. Facing me directly, flapping its wings gently, hanging in the air like a feathery helicopter, I thought I heard it make a sound.
Surely I was dreaming. But I knew I wasn't. I looked directly at the bird and saw that it had a human face. I rubbed my eyes, certain that what I was seeing couldn't possibly be true. But it was. The bird had a human face. Moreover, it was a face I recognized. It was Sen's face! Sen had taken the form of a giant night-hunter. I glanced down on the ground where he had been sleeping. Indeed, he was gone. And there, as clear as the paper on which these words are printed, was the bird—Sen in the form of a bird, hovering before my eyes, flapping his wings gently, evenly, as he held his space in the air.
"What are you doing?" I asked, at the moment not thinking how indescribably unbelievable it was to be talking to a bird who had taken the face of my companion.
"Coo! Coo! Coo!" the bird said. This was followed by laughter—laughter that I knew was Sen's. The laughter ended and was followed by his stupid chuckling. Did he somehow expect me to share in his little joke? I didn't think it was funny. In fact, I was shaking like a leaf, still unable to give a rational explanation for what I'd seen. Besides, the bird was still there, still hovering within an arm's length me.
I decided to treat it as an everyday occurrence. After all, maybe it was a dream. I had heard that the best way to stop a person or situation that you don't like in a dream was to rein in your rational self and tell it to go away. I did this, and heard the bird reply, "Go away to where? You said yourself, it wasn't safe to go down the trail in the dark."
"But you're a bird," I said. "You can fly."
"Oh, right. That's right," I heard Sen say. "Goo'bye, then."
And with this, he disappeared. By the light of the stars I watched him gather his wings under him and plunge off the cliff where I was sitting. I watched as he circled gracefully, changed direction, and disappeared, skimming the treetops in the jungle below, apparently continuing his night hunt.
Then, startled, I suddenly realized that I was all alone at the mouth of the cave. Could this have actually happened? Had Sen been transformed, somehow, into the body of a bird, a giant owl or whatever it was? In any case, it was very clear to me now that I was left alone on the mountainside.
I heard the crunch of gravel on the path a hundred feet away, off to my right. I called out, "Sen, is that you?"
Much to my relief, my companion came into view, hooking up his pants.
"Where were you?" I asked.
"I went to take a crap," he said. "What's wrong? Are you late for your appointment again?" This was followed by his usual stupid chuckle. Then he went back over to his rock and stretched out, arranging the knapsack under his head as before.
"I've had enough of this," I said. "Stop fooling around with my head."
"I'm going back to sleep," he said. "Wake me when the movie's over."
I could not believe his audacity or his incredible coolness. Within seconds he was sound asleep again, apparently oblivious to everything going on around him. I lay brooding, angry, thoroughly shaken by everything I had been through that night. I wanted to grab Sen by the shoulders and shake him awake. I wanted to scream at him, to tell him how much I resented the games he was playing with me. I didn't know how he was accomplishing what he was doing, and I didn't care. I just wanted it to stop.
I huddled close to my rock like an animal guarding its territory. I myself began to feel like an animal, destined to live out its life in the wild. I felt a warming sensation throughout my body, a rippling of muscle. Perhaps it was due to a warm breeze emitted from the mouth of the cave. It was certainly possible that there were hot springs somewhere below that occasionally emitted heat which escaped to the outer vestibules.
I found myself staring steadily and angrily at the sleeping Sen. I had never felt such hatred for another man. But as I stared at him I could not identify my anger. I felt a strange fear, like nothing I'd ever felt before. It was as though this man was an intruder in my life, that he was threatening me or something that belonged to me.
I watched him cautiously, waiting for him to make the slightest move in my direction, a move that would indicate that I would have to fight with him—perhaps until one or the other of us was dead. I determined that I would be the victor. After all, I was larger, more powerful than he.
Sen's snoring stopped. He took a deep breath, then suddenly began to tremble all over as though he was having some sort of fit. The light changed and I saw a giant cat, a mountain lion or a panther standing between me and him, teeth bared.
"Sen," I cried, wanting to warn him. But a strange sound came from my throat, a hissing that I could barely identify with.
Sen sat bolt upright and looked calmly past the cat. In fact, his gaze was piercing, looking right through the cat into my eyes. "Stop this nonsense right now," he said. "You need your sleep. You'll be exhausted in the morning."
"The cat," I said. "Don't you see it?" At that moment I wasn't certain of anything. I could not clearly see the cat myself. It was too close for me to see. I was terribly confused. Why couldn't he see it? I was aware only of its threatening posture, baring its teeth, ready to pounce.
"Of course I see it," Sen said. "It's your cat. It's not going to hurt me."
My cat, I thought to myself. Mine? And then I asked, "What makes you so sure?"
"I am just sure. I am just sure." He waved his hand in front of my face. Suddenly I was calm. I felt spellbound. "You see?" Sen said.
Sen lay back down, and in seconds he was sound asleep again. I drew back away from him, toward the mouth of the cave. The cat came back into focus for me. It was just me and the cat now. The cat turned, gazed into my face, and appeared to grin.
Was all this truly my own creation? I stared back at the cat. Its face lit up, glowing, as though it had been a plastic mask; now someone had turned on a light behind the cat mask, exposing the illusion. The body of the cat vanished and I was looking just at its face, at that backlit mask. Then the mask of the cat began to dissolve, as though the heat of the light behind it was causing it to melt. Soon it was nothing more than a molten blob turning in space like a star. As I watched, it began to reshape itself into a much more geometric form.
After a few moments its transformation was complete. Round, saucer-shaped, it turned slowly in the space before my eyes. The light still shown within it, as though it possessed its own source of illumination. It turned again and again, revealing its full configuration, thin and elliptical from the side, round and perfectly symmetrical from the front. It was a lens, like the lens from a telescope or a magnifying glass. But this lens had an organic appearance—not unlike a living cell, translucent and soft, definitely alive—a geometric jellyfish.
I moved closer to the lens. Deep inside it I saw movement. What were these shapes? I saw many images from my childhood—my brothers, the house where I'd lived during my high school years in Michigan, my parents, my first lover. I thought about how people often reported seeing their lives flash before their eyes when they were faced with death. Could this be the case? Was I near death? I looked deeper into the lens, as though I might find the answer there. I saw a cat, a powerful mountain lion. There was also a giant bird. There was a groaning cave, and a beautiful sunset over the ocean. There was a rugged trail up a mountain, and a man. I looked more closely. It was Sen. He was sleeping by the rock, his head on his knapsack. I could not figure out where he was—in the lens, or beyond it, or both?
The lens turned in the air. I closed my eyes, trying to block it out, trying to see around it, or to see a clear place through it where the world beyond would not be distorted by the images inside the lens. But I could not escape the lens' influence, and now I was aware that it was turning deep in my consciousness, in the same space out of which dream and imagination are created. I had never before noticed how large this mental space I called imagination could be. It had no limits, no beginning or middle or end. It seemed to stretch out in all directions, a vast landscape whose borders were as unlimited as space itself.
At one moment I could be on the mountainside with Sen, in Mexico. A second later I was back in Michigan, many years before, a boy of twelve riding his bicycle on a rain-slick asphalt street. A second after that I was driving across the Arizona desert in January, with a carload of friends, all in our early twenties, heading back to California after a Christmas holiday with our families in Michigan. Now I shifted to a backpacking trip in the high Sierras, where I fished for trout on the bank of a mountain lake.
Where was the lens now? I couldn't find it. It seemed to have merged with all the rest, lost in the jumble of everything I held in my consciousness. I felt panic. Losing the image of the lens was like losing a treasure I had dreamed of discovering all my life. Then there was a long moment of perfect clarity when I realized what had happened to the lens. I saw that it hadn't disappeared at all; the lens was my consciousness, not simply a piece of it.
For a long time I just sat quietly and thought about this. It seemed to me that the lens was like a vehicle for my awareness, giving me an identity separate from the rest of the world. This was the image I had been seeking since I was a child. A thousand questions and speculations that I had entertained along the way now focused on this lens image.
Having the sense of separateness which the lens provided seemed to me both exciting and frightening. It meant that I was not like an ant, with instincts—that is, pre-programmed responses built in—dictating my every action. It meant that I was capable of creating my own program, or even of overriding whatever biological or God-given programs might be built in.
My decisions, my fears, my dreams, my acquired knowledge, all could come into play. In my present situation, up on the mountain, I could make a decision, based on my fears or on other factors contained in my lens, to leave my guide sleeping by the mouth of the cave and make my way down the mountain trail alone. Or I could choose to trust him, and wait for morning. Regardless of which decision I made, because of my awareness of my separateness—achieved through the lens—it was now very clear to me that I alone was responsible for my destiny. I was terribly excited about being able to see all this. This vision of the lens provided me with a symbol for making sense of knowledge I hadn't even been aware that I was collecting over the years. I wanted to awaken Sen and discuss it all with him.
"Sen," I said. "Sen, are you asleep?" I went over to him and gently shook his shoulder.
"What do you want?" he asked, turning his head to face me. "Have you created another cat? A bird?"
I started to look for the words to explain what I was seeing. But then I backed away. I realized that Sen already knew about everything I had seen. To him it was common knowledge, and he had no time for it. "Never mind," I said, deeply hurt by the realization that I had no one with whom to share my discovery. "I'm sorry to disturb you."
Sen mumbled something I couldn't understand and went back to sleep.
I sat down and watched the world beyond the lens, and saw it all merge with memories, images, ideas and feelings that I knew belonged only to me.
As my companion slept, the shadows shortened on the ledge where I sat and I saw that the lens was not something new in my life. I saw it far more clearly than ever before, and that part was new and unfamiliar, but the subtle mergings of external sights, sounds, sensations, all seemed normal, automatic, even familiar to me. I realized that these things had always occurred—and the only difference was that now I could see them, could feel their shifts and mergings, their constant metamorphoses from one form to another.
I remembered many times in the past, all through my life, when I had also had brief glimpses into these basic truths about our ways of processing reality, glimpses never more substantial than the sun's reflection from a bright chrome strip on a passing car. I now saw why life really was not all it appeared to be. Rather, it took on meaning only as it merged with our images inside the lens.
Later that afternoon, as we made our way back down the mountain, Sen listened patiently as I related the story of what had happened to me up on the mountain. I wanted to know if he had experienced any of it. Were the things I had seen a shared reality? Had he seen any of it?
Sen shrugged. He was vague and elusive. He told me that the Indians believed that the place where we spent the night was a sacred spot, and that people often had visions there that changed their lives. I asked if he had ever had visions there.
"Oh, yes," he said. "That is why I sleep when I go there. When I sleep it does what it must do and I am not always jumping up and down thinking I have to do something about it." He laughed. "Unlike you, I am a very lazy man."
When I tried to get him to explain this to me, he said it wasn't important. He told me my Spanish wasn't good enough to understand him if he really tried to go into it. And his English wasn't good enough for him to even attempt it in my language.
He dismissed me with that phrase the Mexicans have for stopping all further conversation on a subject: "No me importa"—it is not important to me. "You went to the mountain and you saw what I promised you. I am a very good guide. I hope you will tell your friends about me."
I promised him I would.
When I got back to the camp where I was staying, Sen disappeared down the beach and I never saw him again. I asked the owner of the hostel about him, and he told me that Sen was an Indian, and that I was lucky to have come back from the trek at all. Sen belonged to a tribe that still lived in the mountains, and they were not known for their friendliness toward Anglos. They had no respect at all for the laws of the Government, and they lived their lives completely cut off from the rest of the world.
I always took this warning with a grain of salt. After all, if Sen's people were so isolated from the rest of civilization, how had he learned English? He knew my language far better than I knew his. Moreover, when I thought back on it I could not think of a single incident in which Sen had acted in any way that I considered directly harmful. Any harm that could have come to me would have come from my own lens distorting reality in ways that could have caused me to use bad judgment and perhaps bring me to harm through my own actions.
The experience has stayed with me throughout my life and become something far more than an unusual memory. The lens has become a reference point for me, a kind of metaphor over which I have puzzled for many years. Only in the past couple years has it become comfortable for me to write about it, to relate the story to others so that I might share the revelations that have come from it.

=========================


Peyote And The Law
Guy Mount
The Peyote Book, A study of Native Medicine, Sweetlight Books, ©G. Mount 1993.
---



We need spiritual freedom in America. The peyote religion has been a lifeline from the past for native people. I believe it can be a lifeline to the future for many others. But the truth is the Peyote Religion has been suppressed by laws which discriminate against followers according to their race, and by ideas which discredit the Good Medicine by classifying it as a dangerous drug.




In California, for example, the rights of Native Americans seem protected because of a favorable decision by the California Supreme Court in the 1964 "Woody Case." However the rights of non-Indian peyotists are ambiguous at best since their use of peyote is a felony under state law despite the fact that peyote proves to be spiritually nourishing and medically beneficial regardless of ethnic ancestry, and despite the alleged constitutional right to religious freedom for all Americans.




Three states have exempted peyote from "controlled substance" prohibitions, and do permit the "bona-fide" sacramental use of peyote by non-Indians who are members of an established church: these are New York, Arizona and New Mexico. The Federal District Court of New York decided in 1979 that "the use of peyote for sacramental purposes...is not to be restricted solely to the Native American Church." Thus a precedent has been clearly established, and under Arizona laws the Peyote Way Church of God was licensed as perhaps the first all-race organization with appropriate authority. A recent decision by the Supreme Court of the United States (1990) makes it clear that we do not have a constitutional right to use any controlled substance as a religious sacrament. Instead, each state has the right to pass laws which honor the peyote religion, or continue to suppress it. Apparently the First Amendment only applies to established religions.




The same Peyote Way Church which is legal in Arizona has encountered difficulties in Texas, where church members were arrested for harvesting medicine. Charges were dismissed, but the Church filed a counter-suit against Texas for discrimination, noting that members of the Native American Church were permitted to harvest and purchase peyote from local licensed dealers. This would seem to be a case of obvious racial and religious discrimination on the part of Texas, but in a decision that makes a mockery of American history, the Fifth Circuit Court declared that "Indian Nations were sovereign entities" with special rights to all of the peyote in the United States. Therefore members of the Peyote Way Church, with membership open to all people regardless of ethnic ancestry, could not pick or purchase peyote in Texas. I would think the previously unrecognized "Indian Nations" could now use the language of this decision to sue Texas for the return of their sovereign land and other natural resources. The American legislative and judicial system conveniently recognizes Sovereign Indian Nations only when that point of view perpetuates the empire.




If the state of Texas really cared about Indian rights, or preventing the depletion of the natural peyote gardens by non-Indian peyotists, it would encourage commercial cultivation of peyote and develop a peyote nature preserve in Starr County, which had a perpetual harvest plan for providing medicine to the Native American Church. This would put many south Texas ranchers back in business, after years of recession-economics. And perhaps the Native American Church might be more supportive of non-Indian rights, if the increasingly diminishing natural supply of peyote were not threatened by a growing demand.


-------




Supreme Court Decision
---
U.S. Supreme Court Report
Employment Division
Department of Human Resources of Oregon, et al., Petitioners
v.
Alfred L. Smith et al.
[No.88-1213] 494 US 872,108 L Ed 2nd 876,110 S Ct 1595
Argued November 6, 1989. Decided April 17, 1990.
Decision: Oregon's prohibition of use of peyote in religious ceremony held not to violate free exercise of religion clause of Federal Constitution's First Amendment.


---
SUMMARY
Two drug rehabilitation counselors, both of whom were members of the Native American Church, were fired from their jobs with a private corporation in Oregon because they had ingested peyote, a hallucinogenic drug, for sacramental purposes at a ceremony of the Church. The counselors applied to the Employment Division of Oregon's Department of Human Resources for unemployment compensation, but the department's Employment Appeals Board ultimately denied their applications on the ground that the counselors had been discharged for misconduct connected with work. The Oregon Court of Appeals, reversing the board's decisions, (1) held that the denial of benefits to persons who were discharged for engaging in a religious act constituted an unjustified burden on the right of free exercise of religion, and (2) remanded the cases to the board for further findings as to the religious nature of the counselors' acts (75 Or App 764, 707 P2d 1274, 709 P2d 246). The Supreme Court of Oregon, holding that such further findings were unnecessary and that the counselors were entitled to payment of unemployment benefits, affirmed both judgments as modified (301 Or 209, 221, 721 P2d 445, 451). On certiorari, the United States Supreme Court (1) noted that the Oregon Supreme Court had not decided whether the counselors' sacramental use of peyote was in fact proscribed by Oregon's controlled substance law, and that this issue was a matter of dispute between the parties, (2) determined that it would not be appropriate, given this uncertainty, for the United States Supreme Court to decide whether the practice was protected by the Federal Constitution, and accordingly (3) vacated the Oregon Supreme Court's judgment and remanded the case for further proceedings (485 US 660, 99 L Ed 2nd 753, 108 S Ct 1444). On remand, the Oregon Supreme Court held that (1) the Oregon statute made no exception for the sacramental use of peyote, (2) the counselors' use of peyote thus fell within the prohibition of the statute, (3) the prohibition of the practice at issue was not valid under the free exercise clause of the Federal Constitution's First Amendment, and (4) the counselors could not be denied unemployment benefits for having engaged in that practice (307 Or 68, 763 P2d 146).
On certiorari, the United States Supreme Court reversed. In an opinion by Scalia, J., joined by Rehnquist, Ch. J., and White, Stevens and Kennedy, JJ., it was held that (1) the free exercise of religion clause permits a state to include religiously inspired use of peyote within the reach of the state's general criminal prohibition on use of that drug, where there is no contention that the state's drug law represents an attempt to regulate religious beliefs, the communication of religious beliefs, or the raising of one's children in those beliefs; (2) the free exercise of religion clause thus permitted Oregon to deny unemployment benefits to persons dismissed from their jobs because of such religiously inspired use; and (3) generally applicable, religion-neutral criminal laws that have the effect of burdening a particular religious practice need not be justified, under the free exercise of religion clause, by a compelling governmental interest.
O'Connor, J., concurred in the judgment and, in an opinion joined in part (as to points 1-3 below) by Brennan, Marshall, and Blackmun, JJ., expressed the view that (1 ) the question under the free exercise of religion clause was properly presented in the United States Supreme Court, (2) an individual's free exercise of religion is burdened by neutral laws of general applicability that make criminal the individual's religiously motivated conduct, (3) the First Amendment requires at least a case-by-case determination whether such a burden on specific individuals is constitutionally significant and whether the particular criminal interest asserted by the government is compelling, and (4) under such a test, (a) Oregon had a compelling interest in regulating peyote use by its citizens, (b) a selective exemption from the prohibition would unduly interfere with this interest, and therefore (c) the free exercise of religion clause did not require Oregon to accommodate the counselors conduct.
Blackmun, J., joined by Brennan and Marshall, JJ., dissenting, expressed the view that (1 ) a state statute that burdens the free exercise of religion may stand only if the law in general, and the state's refusal to allow a religious exemption in particular, are justified by a compelling interest that cannot be served by less restrictive means, (2) Oregon's interest in refusing to make an exception for the religious use of peyote was not sufficiently compelling to outweigh the counselors' right to the free exercise of their religion, and therefore (3) Oregon could not, consistent with the free exercise of religion clause, deny the counselors unemployment benefits.
==================================


A Real Commitment
Omer C. Stewart
excerpted from Peyote Religion: A History
University of Oklahoma Press: Norman, OK ©1987
---

Peyotism today echoes the long-standing problem of its opposition by the dominant population—the Spanish in Mexico and other Americans in the United States, government officials, Christian missionaries, educators, and U.S. senators and representatives. Legally, peyotists today have won their fight for religious freedom in the United States. Since 1978, with the passage of the American Indian Religious Freedom Act (42 USC 1996, P.L./ 95-341), the practice of peyotism by American Indians is protected by law. This act orders all federal agencies to be aware of American Indian sacred sites, objects, plants, materials, etc.., and to protect them from destruction, if possible, and to make their use available to Indians. Peyotism is one of the several American Indian religions named as needing protection. But there is still the possibility of harassment of peyotists under the Drug Abuse Control Act of 1965, which includes peyote among prohibited narcotics, and many state laws which have similar restrictions. While a test in court will clear anyone of arrest for possession of peyote if it is shown that the peyote is for use in a ceremony of the NAC and that the possessor is a member of the NAC, the arrest and detainment can be discouraging. NAC members are learning to be careful not to carry peyote around with them, to carry identification of membership in some NAC congregation, and to know the law. While the efforts to enforce the Drug Control Act where it involves peyote may be an annoyance, most Peyotists are willing to conform to the law.
An unusual case of harassment under the Drug Control Act took place in Grand Forks, North Dakota, in October, 1984, when a white couple, Mr. and Mrs. John D. Warner, were arrested by the FBI for possessing peyote, a controlled drug. The two were members of the NAC of Tokio, North Dakota, and had been for a number of years, and Mrs. Warner was custodian of the supply of peyote for the Tokio congregation. The FBI had learned of the possession of peyote by the Warners from the president of the NAC of NA, Emerson Jackson (Navajo), so it was he who brought them to trial. Jackson said that they were not bona fide members of the NAC because they were not Indians. He maintained that in 1982 a motion had been passed by the NAC of NA to the effect that membership in that organization be limited to persons with one-quarter Indian blood, thereby excluding this white couple. A jury trial in Grand Forks Federal Court found the defendants innocent of breaking the law, since they were able to prove that although they were not Indians, nevertheless they were members in good standing of the local congregation of peyotists. The charges were dismissed.
This case not only illustrates harassment under the Drug Control Act, but it also brings up the legality of non-Indians as bona fide members of the NAC. From the beginning, attendance of non-Indians to peyote meetings has been a somewhat personal or tribal matter. For instance, very early in Oklahoma some Caddo refused to allow non-Indians to attend any of their meetings. But others, such as the Kiowa and Comanche, welcomed non-Indians, black or white, as long as they were seriously interested. With the formation of the NAC, the same attitude has generally prevailed, and the presence of non-Indians has been no problem. It was in the sixties when the hippie generation became interested in peyote and became a nuisance in the peyote gardens of Texas, bringing about the Texas law which forbids possession of peyote by persons not having one-quarter Indian blood and proof of membership in the NAC, that race became an issue in membership. Since then, if non-Indians wish to be allowed to possess peyote, they must show that their involvement in the peyote religion is genuine—that it is not just a recreational, frivolous, or passing interest but a real commitment. Then, as the case against the Warners shows, race is not an issue. Still, it is especially important for non-Indians to carry identification of membership in the NAC if they have occasion to carry peyote, and even so, non-Indians possessing peyote violate Texas law.
The ruling of the NAC of NA that only Indians should be enrolled in the Native American Church is new and is not shared by most peyotists. The NAC of NA does not speak for all peyotists, much as it would like to do so. All peyotists consider themselves members of the Native American Church, but most are not affiliated with the NAC of NA. Each congregation makes its own rules, just as each meeting is conducted by its own roadman.
=======================================

The Peyote Foundation Website

"...Dedicated to the protection and promotion of the peyote cactus and its sacramental use..."


http://www.peyote.net/

=========================