---
Magnesium and Its Relationship to Oncology
---
Jean Durlach
64, Rue de Longchamp, F-92200 Neuilly, France
Michel Bara and Andrée Guiet-Bara
Université P. et M. Curie, F-75006 Paris, France
---
1. INTRODUCTION
2. INTERACTION BETWEEN CARCINOGENESIS AND MAGNESIUM STATUS
3. CELLULAR INTERACTION BETWWEN CANCER AND MAGNESIUM STATUS
4. SYSTEMIC MECHANISMS OF THE RELATION BETWEEN MAGNESIUM AND CANCER
5. NEW PERSONAL DATA
6. GENERAL CONCLUSIONS
1. INTRODUCTION
The aim of this chapter is first to review the consequences of the cancerous state on Mg metabolism and those of the disturbances of Mg status on carcinogenesis, to analyze the cellular and systemic bases of these relations, and to appreciate their theoretical and practical implications. We will then present some new personal data on the membranous relationship between magnesium and various anticancer or carcinogenic agents. We will attempt as a conclusion to show how these data may bring about new promising developments in cancer research as well as in Mg and anticancer treatment.
2. INTERACTION BETWEEN CARCINOGENESIS AND MAGNESIUM STATUS
2.1. Magnesium Disturbances by Carcinogenesis
Mg deficiency may produce either tumorogenic or anticarcinogenic effects. In reverse, Mg acts either as an anticancer or a carcinogenic agent.
3. CELLULAR INTERACTION BETWEEN CANCER AND MAGNESIUM STATUS
The metabolism of proliferative and normal cells is markedly different and the links between cancer and magnesium status may rely on cellular and subcellular backgrounds.
---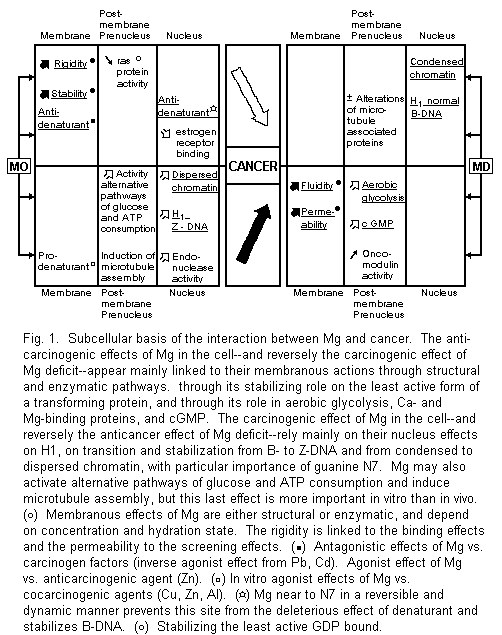 ---
These postmembranous interactions can either be anticarcinogenic or carcinogenic.
In the above-mentioned biochemical reactions, Mg usually acts as a carcinogenic agent.
The most important recent advances concerning the relationship between Mg and cancer rest on the findings concerning the relation between Mg and the cell nucleus, which are most often biphasic.
4. SYSTEMIC MECHANISMS OF THE RELATION BETWEEN MAGNESIUM AND CANCER
Mg may interfere with malignancy through its multiple roles in all the systems of the organism but mainly through its metabolic, immunological, and growth-stimulating effects.
These metabolic interactions are anticarcinogenic and carcinogenic (Fig. 2).
---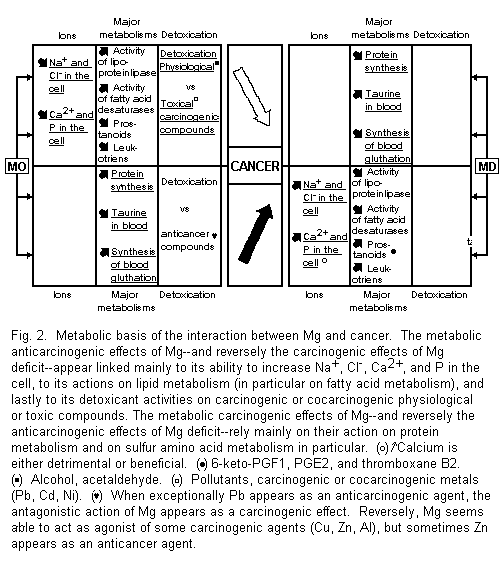 ---
All these metabolic actions of Mg are relevant to its carcinogenic effects.
---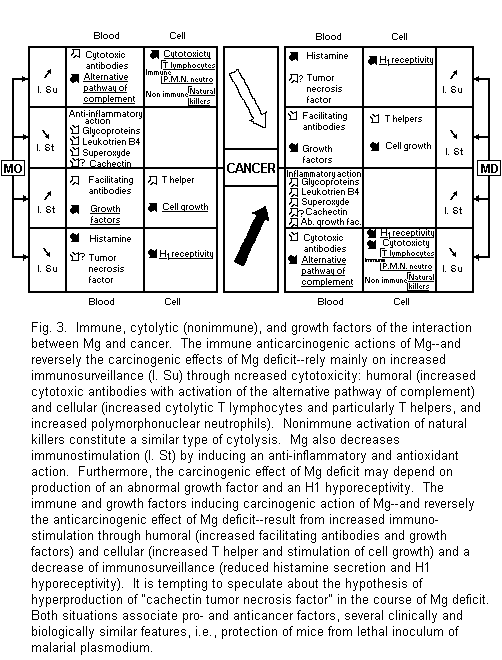 ---
The anticarcinogenic action of Mg rests of Mg stimulation of cancer immunosurveillance and inhibition of immunofacilitation. Reverse mechanisms concern the carcinogenic effects of Mg deficit. The paths are either humoral or cellular.
Indirectly through mediation of growth factors and directly through its effects on the cell, Mg stimulates normal and proliferative cell growth. This action constitutes one of the main mechanisms of its carcinogenic property.
5. NEW PERSONAL DATA
The present data determine the relationship between Mg and anticancer agents, and between Mg and alcohol.
---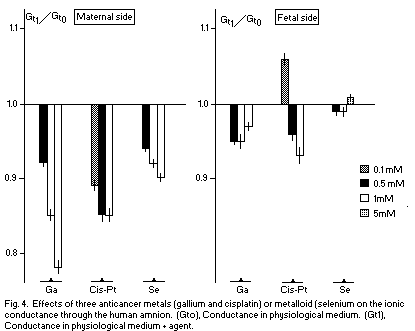 ---
---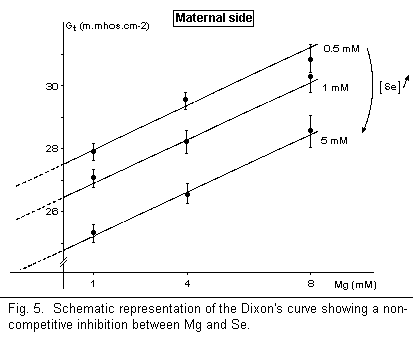 ---
The reduction of the membrane conductance Gt, a deleterious effect, observed in these data indicates that the anticarcinogenic effects of Ga, Cis-Pt, and Se are located on targets other than the plasmatic membrane. The noncompetitive antagonism (Mg-Ga, Mg-Se) and the absence of action (Mg-Cis-Pt) may indicate that the sites of anticancer agents and Mg are localized in another part of the cell (Cis-Pt may control the Mg level on N7 of guanine in DNA, for example) if their antitumoral effects are due to competitive actions of Mg.
In the human amnion, mithramycin reduces Gt on the maternal side but has no effect on the fetal side. There is no antagonism between Mg and mithramycin. These results limit the role of the membrane in the effects of mithramycin.
The transamniotic conductance Gt is the sum of various components: paracellular (GpNa, GpK, GpCl) and cellular (Na,K-ATPase component; Ge, intercellular component; Gj, leak component G1Na, G1K).
---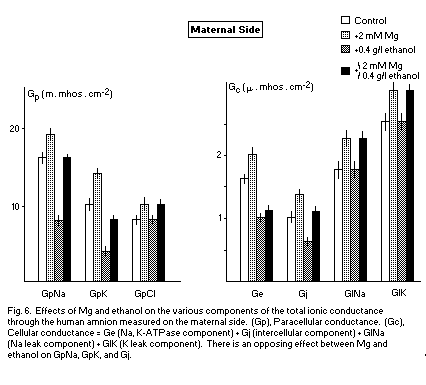 ---
6. GENERAL CONCLUSIONS
The data described may provide a basis for further developments in the physiological, experimental, and therapeutic fields.
Through numerous cellular and systemic mechanisms, the relation between Mg status and cancer appears very complex: both Mg load and Mg deficit sometimes induce anticancer and sometimes carcinogenic effects (Fig. 1-3).
Indications for cancer therapy of Mg supplementation of of induced Mg deficiency are critical. But it is possible to speculate on the importance of ideal treatment for Mg disturbances in an overall cancer treatment.
In the future, the ideal treatment for Mg disturbances in cancer should control the systemic and local factors which regulate cellular and subcellular Mg distribution in neoplastic tissues and those which prevent Mg depletion in extramalignant tissues.
ACKNOWLEDGMENT
We thank Dr. Jean-Pierre Mareschi for his valuable help by providing the most recent computerized data for this literature survey.
REFERENCES
83. J. Durlach, S. Poenaru, S. Rouhani, M. Bara, and A. Guiet-Bara, in Nutrients and Brain Function (W. B. Essman, ed Karger, Basel, 1987, p. 48ff.